Rolling Stones Indianapolis July 4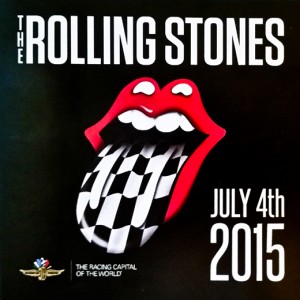 THE ROLLING STONES
ZIP CODE TOUR
INDIANAPOLIS MOTOR SPEEDWAY – INDIANAPOLIS – JULY 4
TICKETS ON SALE MONDAY, APRIL 13 AT 10AM LOCAL TIME
REMASTERED STICKY FINGERS TO BE RELEASED MAY 26
#StonesZip
March 31, 2015 – New York – Ladies and gentlemen…The Rolling Stones are back!  The band has announced that they will kick off their new 15-city North American stadium, ZIP CODE tour, in San Diego on May 24 at Petco Park.  The band will visit the Indianapolis Motor Speedway in Indianapolis on July 4. The tour will make stops in Columbus, Minneapolis, Dallas, Atlanta, Orlando, Nashville, Pittsburgh, Milwaukee, Kansas City, Raleigh, Detroit and Buffalo before wrapping in Quebec on July 15 at Le Festival D'Été de Québec.
Tickets for Indianapolis will go on sale Monday, April 13 at 10am local time.  For ticketing information please visit rollingstones.com.
American Express® Card Members can purchase tickets before the general public beginning Wednesday, April 8 at 10am local through Sunday, April 12 at 10pm local for select markets.
"The Rolling Stones concert on July 4 will mark the first time the Indianapolis Motor Speedway has hosted a concert on a non-race weekend," said J. Douglas Boles, Indianapolis Motor Speedway president. "The biggest band in the world playing at the biggest sporting venue in the world will provide an unbelievable experience for our fans. It doesn't get any better than the Rolling Stones on Fourth of July Weekend at the Indianapolis Motor Speedway."
"We are excited to be back in North America playing stadiums this summer!  We are looking forward to being back on stage and playing your favorite songs." – Mick Jagger
"We love being out on the road and it is great to come back to North America!  I can't wait to get back on the stage!" – Keith Richards
The Rolling Stones ZIP CODE tour will see Mick Jagger, Keith Richards, Charlie Watts and Ronnie Wood head back out on the road after their critically-acclaimed 14 ON FIRE tour in Asia, Europe, Australia and New Zealand in 2014. The iconic band will treat their generations of fans to special one night only shows, with a set packed full of classic Stones hits such as "Gimme Shelter", "Paint It Black", "Jumpin' Jack Flash", "Tumbling Dice" and "It's Only Rock 'N' Roll", as well as special gems from their extraordinary catalog.
The Rolling Stones ZIP CODE tour will be the first time the rock legends have played North American stadiums since 2005-2007's "A Bigger Bang Tour."
The stage design for the stadium shows includes a thrust that extends deep into the audience allowing the Stones to interact directly with their fans.  Known for their ground-breaking sets and use of cutting-edge technology, the Stones' set design will feature video screens and special effects that will enhance the high-octane experience of attending a live Stones' show.
AEG Live's Concerts West is the promoter of The Rolling Stones ZIP CODE tour.
The tour will also coincide with the Rolling Stones re-release of Sticky Fingers on May 26 by Universal Music. Sticky Fingers, one of the most revered albums from the Rolling Stones, is set to enthrall a new generation of fans in 2015. The 1971 classic features timeless tracks such as 'Brown Sugar,' 'Wild Horses,' 'Bitch' and 'Dead Flowers'.  Sticky Fingers 2015, with its iconic zip cover, will be unveiled in a variety of formats. The deluxe editions include a generous selection of previously unreleased Stones studio outtakes from the Sticky Fingers sessions and stunning live performances from that time. These sought after tracks have never been available until this release.
Recorded in Muscle Shoals, Alabama and Olympic Studios in London, and produced by regular confidant Jimmy Miller, Sticky Fingers was released just before the Stones became tax exiles in the south of France, leaving Britain after a sensational farewell tour. It also featured some of the most ground breaking design in rock history, with its famous working zip on the front cover and artwork by Andy Warhol.
THE ROLLING STONES – ZIP CODE TOUR
May 24, 2015                       San Diego, CA                       Petco Park
May 30, 2015                       Columbus, OH                     Ohio Stadium
June 3, 2015                         Minneapolis, MN              TCF Bank Stadium
June 6, 2015                         Dallas, TX                               AT&T Stadium
June 9, 2015                         Atlanta, GA                            Bobby Dodd Stadium
June 12, 2015                      Orlando, FL                            Orlando Citrus Bowl
June 17, 2015                      Nashville, TN                        LP Field
June 20, 2015                      Pittsburgh, PA                     Heinz Field
June 23, 2015                      Milwaukee, WI                   Summerfest / Marcus Amphitheater
June 27, 2015                      Kansas City, MO                 Arrowhead Stadium
July 1, 2015                           Raleigh, NC                            Carter-Finley Stadium
July 4, 2015                           Indianapolis, IN                                   Indianapolis Motor Speedway
July 8, 2015                           Detroit, MI                             Comerica Park
July 11, 2015                        Buffalo, NY                             Ralph Wilson Stadium
July 15, 2015                        Quebec, QC                           Le Festival D'Été de Québec*
*wristbands will go on sale at 12pm local time on Saturday, April 11
http://www.youtube.com/user/therollingstones
https://www.facebook.com/therollingstones
https://twitter.com/rollingstones
@RollingStones
#StonesZip