Steve Lukather: Close-up With a Guitar Legend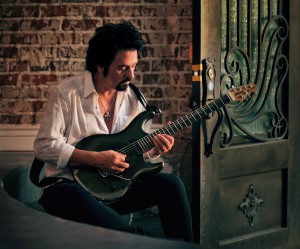 Allan's Video rental store on Commonwealth Avenue in Mount Pearl, Newfoundland was a very busy spot in the early '80s. It was only about a block from my house, and I spent a considerable amount of money there as a teenager renting movies that I'd watch on a Betamax that my father would bring home periodically from his work. Allan's had a music section with popular titles such as the Last Waltz, Tommy, and Spinal Tap. My favourite, however, was Paul McCartney's Give My Regards to Broad Street. This movie had a loose plot that I paid less attention to than the remakes of Beatles and Wings hits that filled out the movie. One such remake was "Silly Love Songs," and in the film McCartney and his band are on a futuristic platform performing in glam makeup and silver spiked hair. For this song, McCartney had recruited some American musicians from the band Toto, namely drummer Jeff Porcaro and guitarist Steve Lukather.
I was particularly interested in Lukather, whom I had read about in Guitar-related trade magazines where he was a regularly featured columnist or interviewee. I was also a fan of the "Rosanna" solo and could never figure it out on guitar; I've always been a fan of guitarists I cannot emulate. Therefore, this realization that McCartney had recruited Lukather was very interesting to me musically. And the results were oustanding. Not only did Lukather add a tasty solo in his characteristically melodic style, he sang background vocals on the breakdown which was an extra treat.
Between the early '80s and early '90s, Lukather (affectionately known to his friends as "Luke") had managed to record with just about every big name in the business: Michael Jackson, Stevie Nicks, Don Henley, Chicago, and many more. I always kept an eye on Lukather throughout the '80s in the magazines and the occasional TV appearance, but as the '90s wore on he fell off my radar as I got more into acoustic singer/songwriter mode and less into guitar playing in particular. During this time he was still busy with L.A. sessions and touring the world, both solo and with Toto.
In 2003 I formed a band with my brother Andrew, Brothers in Stereo. We had a busy schedule between 2003-2006 with recording, touring, and TV/radio interviews. However, each of us would take the occasional solo gig downtown when we weren't busy with Brothers in Stereo. In July 2004 the Fat Cat bar on George Street called me to do a Sunday night solo show there as a fill-in for a cancellation. I obliged, and soon enough found myself on the lonely stage on a quiet off-night playing to about five people – all of whom were in the upper section of the bar, as far away as possible from the stage. During times like this, I usually play for myself – fooling around with extended guitar solos, noodling, etc. I also like to play obscure tunes from my favourite songwriters.
During my second set, a small group of people entered the bar. One of them – an obvious musician with a trimmed goatee, spiky jet-black hair, chain wallet, t-shirt, and beaucoup  tattoos – swaggered his way to the table directly in front of the stage by himself and slid into a chair, facing me as I played. He looked vaguely familiar, and I surmised it was a musician I probably knew from the scene and who had moved away years ago and now home on vacation. He listened to the whole set while casually slurping on a pint of Guinness, and when I was done he rejoined his group at the other end of the bar. I went to the opposite end of the bar and order a beer. Chris Andrews, singer with local trad band Shanneyganock, was with them when they walked in, so I asked him the name of the guy who had been watching me. His answer was "I don't know, man, some dude from L.A." After observing him for another minute or so, it hit me: it was Steve Lukather. What was he doing in St. John's, Newfoundland, of all places? I was about to find out.
I went over and gingerly approached him. He had been partying hard with his companions, so I assumed that any conversation would be pretty superficial. Nevertheless, we struck up a friendly conversation and he complimented me on my set. I told him about my admiration for the McCartney session and he seemed really appreciative. In fact, he was so humble it was disarming. After some more idle chat, I got him to sign my guitar. He told me that I was crazy putting his signature on the back of my vintage Gibson. I didn't agree. It turned out he was in town with his wife who was from Newfoundland, and they were attending a wedding in Botwood. They had about five days of downtime in the city before the wedding.
He stayed for the remainder of the gig, and we ended up leaving the bar at the same time. It was pouring rain, so I offered him and his wife a ride home. They gladly obliged, and I dropped them off at a condo on Queen's Road. As Lukather exited my car, he shook my hand and said, "Any time you're in L.A., look me up. If you need a place to stay, call me. Anything I can do, man, let me know." I told him I would like to give him a copy of the Brothers in Stereo album, and he said he'd like to hear it.
The next day I dropped off a copy of our CD in the mailbox of where he was staying and figured that would be it. However, the next night I was at the Fat Cat having a few casual drinks when Luke showed up again. He immediately bought the whole bar a round, and tipped the bartender a ridiculous amount of money. Standing next to me, he recognized the muted expression of shock on my face and said with a smile, "I'm on vacation, man. I hardly ever get any time off." So we proceeded to have a few drinks – and the stories started. Needless to say they were more than impressive: hanging out with George Harrison, playing Beatles songs with McCartney during an impromptu jam, working on Michael Jackson's Thriller album, and on and on. As the night wore on we started bar-hopping, and we even commandeered a few stages and did our best to jam through well-known tunes. Admittedly, no one in the entourage was sober enough to play much, so we did more drinking than jamming. At one point during the night, Luke scribbled down his cell number and email address and told me to keep in touch. I'm glad he did, because I didn't see him again after that night.
He made it in and out of rural Newfoundland without too much trouble and went back to touring the world and his home life in L.A. In the years after meeting him, I would send the occasional email to stay in touch. Often, less than hour would go by before I received his quick response. He was always very supportive of what I was doing musically, and he added a link to the Brothers in Stereo website on his own website, under a section called "Friends."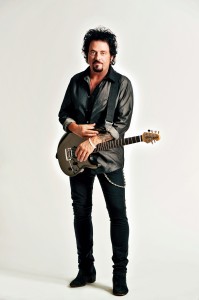 About a year ago I posted on his Facebook page that he should come back to Newfoundland. He responded by saying it was unlikely because he had split with his wife from Newfoundland. So I sent him an email and we talked back and forth for a while about the changes he was going through, which included his decision to stop drinking and smoking. He was very open about his transitions and how they were affecting his life. (He also talked about this in interviews, so I'm not compromising anything confidential). Again, he sent his number and encouraged me to contact him if I were ever in Los Angeles. I had recently befriended another L.A. guitarist/steel player, Steely Dan alumni Dean Parks, of whom Luke is an admirer. Dean and I share the passion of pedal steel, and we had recently formed a friendship at some steel shows in St. Louis and Dallas. So Luke incredulously suggested that he, Dean and I should get together for a jam if I come to L.A. I'm grasping at straws to think that it would actually happen, but if I get to L.A. (and I plan to within the next year or so) I'm going to make an attempt at coordinating it. Crazier things have happened. If someone had told me that Steve Lukather was going to sit himself down in front of me during a Sunday night solo show at the Fat Cat in St. John's, Newfoundland, I would have told them they were crazy as well.
In August 2013 my wife and I went to Europe on our honeymoon and got a chance to see Luke with Toto in Germany. When I told him we were going, he arranged for tickets and passes for us. After the show (which was stellar) we went backstage and sat with him for over an hour. He gave me some great musician advice, telling me not to judge success on sales or popularity but by how happy you are. He was a true gentleman. He had other fans waiting, and insisted we stay for a prolonged chat because we had come so far to see him. Just a great guy, and very down to earth. It's hard to believe that a guitar player I'd admired from far for decades eventually became a friend as a result of twists and turns of fate.
For Luke's complete discography, click here: Discography