McCartney @ Dodger Stadium, 8/10/14 Reviewed
.
Written by guest contributor Alyson Camus of RockNYCLiveandRecorded
Have you noticed how hard it is to write about very extraordinary events? Only trite cliche's come to mind, like unforgettable, historic, memorable, epic,… words you will find in any reviews, words that are only touching the surface of your feeling, failing to shape up the depth of what you have just lived.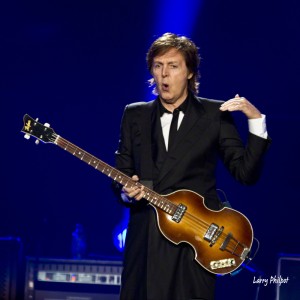 For two hours and half (and may be a bit more), Paul McCartney had the size of an ant at the bottom of the Grand Canyon from my nosebleed seat in the top deck, but he was the closest thing to God that I have never seen… does he know about his god-status? I wonder what went through McCartney's head when he put his feet on the Dodger stadium stage on Sunday night, he is very used to this arena-type of show, but at the same time it was the first time he was playing at the Dodger since the historic Beatles' show on August 28th 1966. I am sure he had this in mind the whole time, as he brushed the Beatles' extensive catalogue with grace and ease, but especially when he evoked John then George – during 'Here Today' then 'Something' that he performed with the late Beatles' ukulele.
God status? May be I am misleading everyone here, because no one is more human than Paul McCartney, even when he is at the top of the world, singing in front of a crowd of 55,000 people. He was interacting with us in the most casual way, telling stories, scratching his head while asking us how we were doing, paying attention to every side of the stadium, giving us the impression to attend an almost intimate show despite the overwhelming size of the place. Looking at the way he conducted himself on stage, the way he talked, there was no one more humble than Paul – I heard that Kanye West was in the audience and may be he should have taken notes.
It was a multi-generation show, which had gathered people from all ages, from all parts of the country, and way beyond: I read that some Japanese people had come to attend the show since Paul had cancelled his tour in Japan due to a viral infection. It was also a parade of McCartney-Beatles t-shirts, as everyone has decided to wear theirs to honor the Beatle, and a young guy in full Sgt. Pepper attire got a lot of applause. The show was a full crowd pleaser with so many Beatles classics, as he did start the show with the 1964 hit 'Eight Days a Week', jokingly saying 'I haven't been there for a while'… and then rocked the crowd with 60s and 70s classics such as 'All My Loving', Paperback Writer', 'The Long and Winding Road', 'I've Just Seen a Face', 'I Saw Her Standing There'…and I could go on and on as the setlist is full of them. There were a few Sgt. Peppers songs, but not the obvious ones, 'the ones for the kids', like 'Lovely Rita', 'Being for the Benefit of Mr. Kite!' and many sing-alongs or clap-alongs during 'Ob-La-Di, Ob-La-Da' or 'Hey Jude'.
While the amazing visuals behind him were matching the mood of the songs, McCartney was going from one Beatles' album to a Wings song to one of his solo album 'New' ('Save Us', 'New', 'Queenie Eye', ' Everybody Out There') with the same aplomb and sincerity, hardly taking the time to recover between songs. At 72, he is in super shape, he didn't look like his age at all in his skinny jeans, and he removed his jacket after a few songs revealing an elegant white shirt just to tell us that this would be 'the only wardrobe change of the evening'. Sexy Paul? Oh yeah, totally!
He was telling us about the time when Jimi Hendrix opened the show with them in the 60s, or saying he had written 'Valentine' for his current wife Nancy, and  'Maybe I'm Amazed' for his previous wife 'Linda', later on… If I am not a super fan of the first one, this older one can give me the chills anytime. At this moment, Paul had almost disappeared behind his large piano, he looked so small he could have been on the moon, but the song was bigger than anything, radiating eternal love and youth.
'To the two people who were there in 66,… scream!' Judging by the crowd reaction, there were more than 2 people. The visuals of the show were fantastic, putting McCartney at the top of the earth during 'Black Bird', a total favorite of mine, and suddenly installing him at the top of a waterfall during 'Here Today', his homage to John. 'How many people did learn guitar by playing Black Bird?' he asked… 'you all got it wrong!'
Paul had noted all the signs that people in the floor seats were holding to him, signs saying for example 'Hey Paul, I'm Jude' or other humorous things… 'I try not to read the signs', he told us just after playing 'I've Just Seen a Face', 'I try to concentrate on the chords and the words!'… 'Sign my butt?' said another sign. However Paul (or somebody else) did read the signs as two women (mother and daughter) had probably the time of their life when they were allowed on stage to get their arm signed for matching tattoos.
After 'Back in the USSR', he also talked about the time he performed in Moscow's Red Square and his incredible talk with the defense minister who admitted 'he had learnt English from Beatles records … Hello goodbye!' I was trying to pay attention to everything Paul was saying but the very drunk Mexican guy next to me had decided to ruin it for everybody, talking and shouting like a maniac all the time, asking for 'Hey Jude' during the encore when Paul had just sang it! 'Pay attention!' I tried to tell him, 'he just did this one!', but it was just a waste of time, 'Do you want to dance?' he replied… Jeez, the good times of stadium shows!
Then the end of the show went crescendo, playing the biggest hits, 'Let It Be', then 'Live and Let Die' with fantastic fireworks… and I thought it was the end of the show, going with a bang… but no, there was the unforgettable sing along of 55,000 persons during 'Hey Jude' with a forest of iPhones lighting up, and he came back for an encore with more Beatles and Wings' songs… could it be the end again? No way, there was a second encore, with four more songs, and each time the four young guys behind me were jumping of joy, Oh my god, he is coming back! 'Yesterday' could have been the end of it, but there was 'Helter Skelter'! And more, always more,… 'Oh my god, I can die happy now', I heard behind me, and this was coming from a 20-year-old kid. This was the triumphant feeling of everyone, it had nothing to do with nostalgia, but everything to do with the magic of a fantastic and cross-generational artist capable to touch 55,000 persons at once with 50-year-old songs.
Setlist
1. Eight Days a Week (The Beatles song)
2. Save Us
3. All My Loving (The Beatles song)
4. Listen to What the Man Said (Wings song)
5. Let Me Roll It (Wings song) (with 'Foxy Lady' by Jimi Hendrix snippet)
6. Paperback Writer (The Beatles song)
7. My Valentine
8. Nineteen Hundred and Eighty-Five (Wings song)
9. The Long and Winding Road (The Beatles song)
10. Maybe I'm Amazed
11. I've Just Seen a Face (The Beatles song)
12. We Can Work It Out (The Beatles song)
13. Another Day
14. And I Love Her (The Beatles song)
15. Blackbird (The Beatles song)
16. Here Today
17. New
18. Queenie Eye
19. Lady Madonna (The Beatles song)
20. All Together Now (The Beatles song)
21. Lovely Rita (The Beatles song)
22. Everybody Out There
23. Eleanor Rigby (The Beatles song)
24. Being for the Benefit of Mr. Kite! (The Beatles song)
25. Something (The Beatles song)
26. Ob-La-Di, Ob-La-Da (The Beatles song)
27. Band on the Run (Wings song)
28. Back in the U.S.S.R. (The Beatles song)
29. Let It Be (The Beatles song)
30. Live and Let Die (Wings song)
31. Hey Jude (The Beatles song)
Encore:
32. Day Tripper (The Beatles song)
33. Hi, Hi, Hi (Wings song)
34. I Saw Her Standing There (The Beatles song)
Encore 2:
35. Yesterday (The Beatles song)
36. Helter Skelter (The Beatles song)
37. Golden Slumbers (The Beatles song)
38. Carry That Weight (The Beatles song)
The End (The Beatles song)