Live Nation adds "The Supper Club"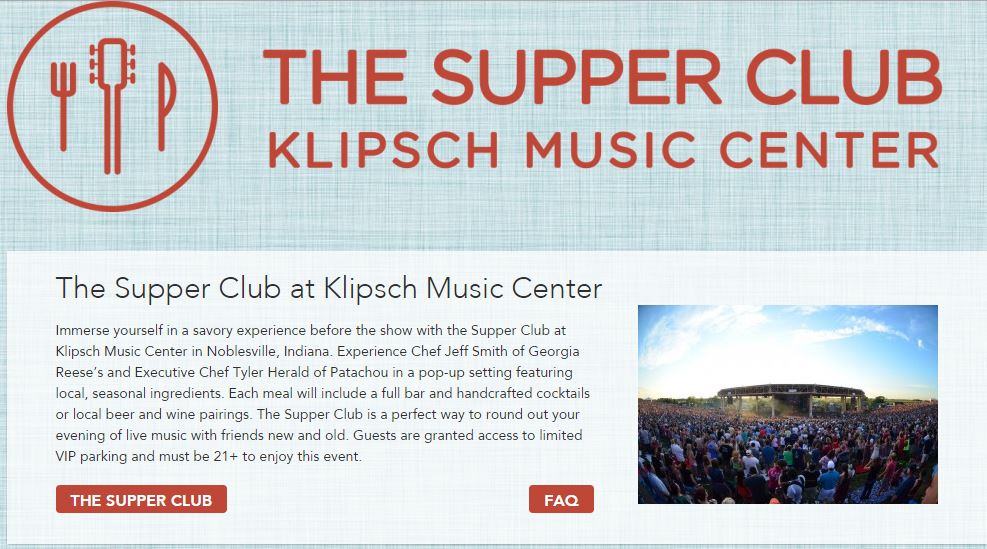 The Supper Club by Live Nation and CID Entertainment
Kicks off this week at Klipsch Music Center
Concertgoers will enjoy pre-show dining experiences curated by local chefs before select shows, with more recently added
June 15, 2016 – Noblesville, IN – Live Nation and CID Entertainment's latest collaboration, The Supper Club, is a unique dining experience before concerts at Klipsch Music Center this season. Featuring local chefs, The Supper Club will kick off this week before shows including Dead & Company, Florida Georgia Line and many more Supper Club experiences offered and just added throughout the season.
Chef Jeff Smith of Georgia Reese's and Executive Chef Tyler Herald of Patachou have been handpicked to offer concertgoers the highest quality experience to complement their live music outing. The menu and format will shift in response to seasonal ingredients and reflect the artists' sensibilities. Ranging from three-course meals to dine-around formats with supper-by-the-bite, each Supper Club experience will be inclusive of either a full bar or wine and beer pairings. The Supper Club experience is now on sale for select shows throughout the summer, and must be purchased at least 48 hours in advance at http://www.cidentertainment.com/events/the-supper-club-at-klipsch-music-center/.
The program is born out of a longtime partnership between Live Nation and CID Entertainment. Tom Mendenhall, Vice President of Live Nation Indiana, comments, "We are excited to work with local chefs and CID Entertainment to bring this exclusive dining option to our guests. We are always looking for new and innovative experiences to present to the public and believe this is a great offering."
The Supper Club at Klipsch Music Center, ranging from $125 – $135 per guest, features:
Dining experience curated by local chefs featuring local ingredients, with custom menus for each event
Full bar and handcrafted cocktails or local beer and wine pairings
Unique, pop-up setting with a social atmosphere to enhance a night out at Klipsch Music Center
Access to limited VIP parking
"The Supper Club is our latest collaboration with Live Nation to provide passionate live music fans with an enhanced concert-going experience," shares Dan Berkowitz, founder and CEO of CID Entertainment.
Klipsch Music Center Supper Club is now on sale for the following shows:
6/17/2016                   DEAD & COMPANY
6/18/2016                   FLORIDA GEORGIA LINE
6/30/2016                   KENNY CHESNEY
7/1/2016                     DEF LEPPARD
7/8/2016                     LUKE BRYAN
7/9/2016                     LUKE BRYAN
7/17/2016                   HEART w/ JOAN JETT & THE BLACKHEARTS and CHEAP TRICK*
7/22/2016                   DAVE MATTHEWS BAND
7/23/2016                   DAVE MATTHEWS BAND
7/24/2016                   DARYL HALL AND JOHN OATES
8/13/2016                   DIERKS BENTLEY*
8/25/2016                   DIXIE CHICKS "DCX WORLD TOUR MMXVI", VINTAGE TROUBLE and SMOOTH HOUND SMITH*
Comments
comments
Powered by Facebook Comments