Billy Squier's Career Killing Video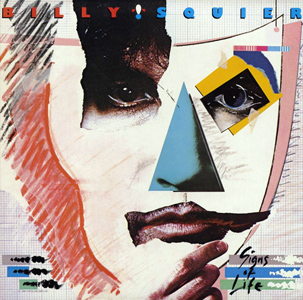 Billy Squier spent the early '80s playing big arenas and burning up the Billboard charts. He released two multi-platinum Top 5 albums (1981's Don't Say No and 1982's Emotions in Motion) during a two-year span and introduced Def Leppard to fans around the globe. Industry insiders were sure that Squier was slated to end up being one of the biggest rock acts of the '80s, but that's not how it worked out.
Squier's career path changed dramatically in the summer of 1984 with the release of the video for the lead single from Signs of Life, "Rock Me Tonite." The album was well received by fans and critics managing to reach #15 on Billboard's Top Forty by early fall and returning Squier to #1 on Billboard's Album Rock Tracks chart, but the video tanked and his career took an epic nose-dive.
The video made its scheduled debut on MTV, getting reluctant approval from both Squier and Capitol Records. It was quickly pulled, but according to Squier, the damage was done. He said: "The video had a deleterious effect on my career. The tour before, I was selling out arenas faster than Sinatra, and as soon as that video came out I was playing to half houses."
The video starts with a bare-chested Squier rolling out of a pastel, satin-sheeted bed in a Miami Vice inspired bedroom and putting on a sleeveless, pink T-shirt. It's decidedly uncomfortable when he starts dancing, but when he starts slithering across the floor like a sexy snake, it's almost unbearable. Squier is clearly more comfortable doing literally anything else than dancing in this video. The video was so out of step with what rock fans were willing to tolerate that it derailed his 1984 tour and stalled his momentum as a recording artist.
The video is used as a cautionary tale in the music industry and is so terrible most experts blame it for killing Squier's career almost overnight. Squier's concert ticket sales immediately suffered, and he fired his managers for deceiving him and altering his original concept, which they denied. For I Want My MTV, their 2011 oral history of the network's early years, authors Rob Tannenbaum and Craig Marks interviewed over 400 people, primarily artists, managers, filmmakers, record company executives and MTV employees. They said that none could agree on the best video, but all agreed that "Rock Me Tonite" was the worst.
In the thoroughly entertaining book, I Want My MTV Squier describes the effect the "Rock Me Tonite" video had on his career with a combination of self-pity and dumbfounded disbelief. He still seems dazed by the fact that his life could be so profoundly altered with such irrevocable swiftness:
"When I saw the video, my jaw dropped. It was diabolical. I looked at it and went, "What the **** is this?"
Squier squandered his credibility and gambled with his image by releasing the "Rock Me Tonite" video. Fans weren't looking for a song-and- dance man but apparently his handlers had other ideas. The misguided attempt to pawn himself off as something other than what he was, and with a song which, like the video, just seemed a little too calculated was an unprecedented career killer.
Billy Squier is still relevant today. He's one of the most sampled artists in hip-hop, thanks to a series of rhythm tracks from his late drummer, Bobby Chouinard. Eminem has sampled Squier's songs, and the singer's 1980 classic "The Big Beat" is one of the most sampled songs of all time. Legendary rapper Big Daddy Kane says, "He's [Squier] definitely someone who helped mold and shape hip-hop with his music. I would put him in the category of James Brown, the Honeydrippers and Chic."
Billy Squier is exploring his catalog and musical roots through performances and conversation with fellow guitarist GE Smith in an up close and personal show. For the moment, it's scheduled to be a one night only performance on Friday, September 1, at Guild Hall / East Hampton, NY. Tickets are available here >>> BILLY SQUIER ONE NIGHT ONLY
Backstory: Solid Gold. John Stewart, Stevie Nicks & Lindsey Buckingham