WARMfest Day 1 Recap
No one quite knew what to expect from WARMfest. This year, the festival's inaugural year, attracted several big names, including Michael Franti, Mayer Hawthorne, and Big Head Todd and the Monsters. Held in Indianapolis, WARMfest was the culmination of a rapidly growing indie festival, but the event reinvented itself this year as a fully fledged music festival. The festival was slated to last all three days of the Labor Day weekend; the first of which was today, August 31st.
Despite uncertainty due to the weather, WARMfest began as planned at 10 o'clock this morning with Kyle Long DJing in the Eagle Dance Tent. Fans flocked to the festival; bands began their sets, and that comfortable atmosphere which envelops most festivals began to materialize.
Most festivals begin to develop certain reputations for each of their stages, and WARMfest was no exception. The Otter Tent, one of the smaller stages, quickly became known throughout WARMfest as the place to go for more intimate shows. It would be here that Anderson East played. Fresh off his tour with Holly Williams, East played a refreshing blend of blues and acoustic singer-songwriter styles that stunned the audience. Easily slipping back and forth between heart wrenching wailing and tender melodies, East obviously feels at home across the vocal spectrum.
Around 3:15, the majority of the crowds congregated at the River Stage, which is the festival's largest. Nashville natives the Kopecky Family Band were slated to play, and the size of the audience surrounding the stage made it evident that this was the most popular act thus far. For those who are unaware, the Kopecky Family Band plays an interesting mix of music that could be described quite simply as fun. Each of the members aptly alternates between a variety of instruments, including the lap steel and a coiled up steel chain. Of course, the band was not the only ones who got a chance to jam, during the last song maracas and tambourines were passed throughout the crowd.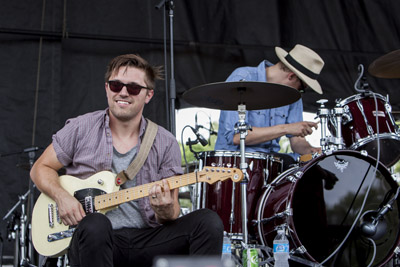 Unfortunately, soon after the Kopecky Family Band's set finished, a severe thunderstorm warning was called for the area. The park was evacuated, thrusting fans out into the wet. The festival delayed the announcement for a couple hours, but soon it became official: the festival would not continue as planned tonight. Though Saturday tickets will get ticketholders into the Sunday or Monday dates, the fact that Dale Earnhardt Jr. Jr., Mayer Hawthorne, Delta Spirit, and RJD2 all had to cancel their sets tonight is a major disappointment for most fans. Hopefully, a complete recovery can be made, as eager fans are still excited for the rest of the weekend.