Tonic Ball to Feature the Music of Johnny Cash, Elton John, ABBA, Pearl Jam & Beyoncé
Annual concert will take place in Fountain Square on Friday, November 16, 2018, and raise funds for Indianapolis hunger relief agency Second Helpings
August 16, 2018 – Today, the Tonic Indy organizing committee shared the five bands that will be featured in the Tonic Ball concert on November 16. Indy's biggest hunger-fighting party, Tonic Ball will celebrate the music of Johnny Cash, Elton John, ABBA, Pearl Jam and Beyoncé at five Fountain Square music venues – Radio Radio, Fountain Square Theatre, White Rabbit Cabaret, The Hi-Fi and Pioneer. Bands interested in playing Tonic Ball can visit tonicindy.com to sign up through September 17.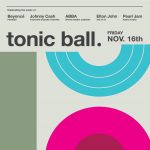 Additional info on Tonic Ball:
On November 10, Tiny Tonic will offer children and families a chance to be a part of the Tonic experience with a free concert and opportunity for families to tour Second Helpings.
Eskenazi Health is once again sponsoring the event, in support of Second Helpings and their high-impact mission.
Tonic started in 2002 with a one-night performance of Gram Parsons songs at Radio Radio. Since then, it has grown to be one of the most popular nights of art and music in the city each year. Last year's sold-out concert and related events brought in close to $150,000, with every ticket sale going directly to Second Helpings.
About Tonic:
Tonic Indy is a celebration of local music and art. Tonic Ball is a night of fun and excitement, all for a good cause. Each year we pick five iconic bands and/or musicians, ask 200+ of our favorite local and regional performers to cover a few of their songs, sell tickets to the show, and give all the proceeds to our favorite charity: Second Helpings. As a complement to Tonic Ball, Tiny Tonic offers little rockers the chance to party and fight hunger too.
About Second Helpings:
Second Helpings transforms lives through the power of food. By accepting donated perishable and overstocked food, the organization prepares nutritious meals for thousands of hungry children and adults every day and distributes them free of charge through social service agencies in Greater Indianapolis. For more information, visit www.secondhelpings.org.
###
Media Contact:
Contact: Kirsten Eamon-Shine
317-610-7159 or kirsten.eamonshine@gmail.com
http://www.tonicindy.com/
—
Andy Wilson
Vice-President
Entertainment & Events
address: 201 S. Capitol Avenue, Suite 600 | Indianapolis, IN 46225
office: 317-602-7137 x.2042 | fax: 317-561-6581
twitter: @awilsonindy