Survivor's Dave Bickler, More Than a Tiger's Tale
In the movie Rocky, Adrian asks Rocky why he wants to be a fighter. His response: "Because I can't sing or dance."  Dave Bickler can sing; "Eye Of The Tiger" proved that. Whether he or Survivor could have imagined that song would go to #1 all over the world, win a Grammy, a People's Choice Award, receive an Academy Award nomination, and become one of the greatest motivational songs of all time, well, probably not.
Sometimes though, the taste of success can be bittersweet. Following an extended tour, Bickler developed vocal problems and was forced to leave the band. Memphis singer Jimi Jamison stepped into Bickler's spot, and Survivor recorded the extremely successful Vital Signs album.
After two more albums, Survivor went on hiatus, regrouped with and without Bickler, and finally in 2013, the band toured with both Bickler and Jamison together. The experiment proved to be successful, and with the one-two punch of both lead singers, Survivor hit the road on a larger scale this year.
After interviewing original band member Frankie Sullivan during the first tour with the two lead singers, and Jimi Jamison as this tour was getting underway, I was lucky enough to hear the perspective of the Survivor journey from Dave Bickler.
Kath Galasso: I'm going to ask you a question I asked Jimi (Jamison) when I interviewed him. In your vocal process, is there a certain way you work into it, or do you just go in and sing?
Dave Bickler: Well, I do just go and sing, but singing does require some thought. You have to be sure that you have enough breath to get through it, there is some thought that goes on in my head while I'm doing it. I couldn't explain it exactly, but you use different parts of your voice too. There's a full voice, a falsetto that you can transition between for certain things. So I do think about that.
Going back to your first stint with Survivor, and when "Eye Of The Tiger" happened, that whole roller coaster ride, what was the most memorable thing, what stood out the most?
Obviously we had the hit record so then we went out on the road, and doing the big halls, the big sheds, that was amazing. And I do remember when the record went to #1. We were doing phoners for the record company and they told us "your record just went to #1." That was a good moment. Cause that's why I got into it in the first place. I wanted to be in a band, I wanted to make records, to be able to do it for my living, and all that stuff, from when I saw The Beatles on Ed Sullivan. It's cliché but it's true.
I think all of us in that age group were affected by that.
Yeah everybody. I saw the history of the Eagles movie. Don Henley, Glen Frey, both said the same thing.
It was a seminal moment for our generation.
Yeah, it totally was. And that's what I wanted to do. And luckily, I got to do it. My dream come true.
But it had taken awhile, you were what, in your late twenties when it happened?
Yes, I was twenty-eight years old I think.
Was there any point before that you didn't think the band would make it, or that you would not make it as a singer?
I had a lot of faith in our band. The first two records we made, I thought were good records, but you know how it goes. Just to get it played and all that stuff, there's a certain amount of luck and timing involved in that. But a lot of the bands in that era too, they made a couple of albums that didn't sell. Then they did it right, and the third one was the charm. I especially liked Premonition, the album before that. I thought that was a really good record.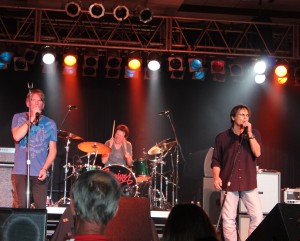 After that success, you had the vocal problems and left the band. Jimi stepped in…
Yeah, he took my job.
Ha, yeah he doesn't see it that way.
Jimi is so great, he really is. He's a great singer.
What did you feel like? You're sidelined and couldn't sing for a year, and to sit by and watch the success of Vital Signs happen.
I had problems and I thought it was my fault, but I've come to learn that it's not uncommon for singers to have vocal problems, even if it's not the rock & roll business. But yeah, it was tough, it was real tough.
It's funny that you mention that it wasn't the rock & roll cause when I talked to Frankie (Sullivan), he kind of thought that they just burned you out with the schedule.
Well, having said that, it's not easy singing rock & roll. It does burn people out. But I've learned how to better take care of myself and my voice. I warm up, which is something I do now that I never did before, and it's huge. It makes such a gigantic difference. To do a proper warm-up before you sing, it's everything. So I've learned some lessons along the way.
We mentioned The Beatles as being an influence, but hearing The Beatles, was that the influence that made you think that's what you wanted to do?
It really was. I just loved the fact that they were playing their own instruments, that they wrote their own songs. It was such a different thing from what came before then when artists really didn't write their own songs. Someone else wrote it for them. It was all managed very carefully by record companies. Then these guys… wow, pretty impressive. And the music itself, I know it was early in their careers and they were writing, even they themselves said kind of silly songs. But there was something there that was different, even with the simple lyrics they did then, there was a sound that was so amazing and different, it caught my ear.
Now the band is on tour and will be through the fall. Everybody is geographically spread out. How do you guys get the rehearsals together?
We have a long enough time during sound check, we rehearse then. And we write and do new stuff too then. But yeah we are spread all over the place.
Since you brought it up, let's talk about what's going on with the writing.
It's kind of wide open, everybody's throwing ideas out. And there are some really good ideas floating around between all of us. I like that, it's really fun. Frankie has got some great ideas. Frankie always comes up with really cool guitar stuff that's really interesting. Frankie was good the first day I heard him play, but he's one of those kind of guys that's always gotten better all along.
So has anything new been written yet?
We've got pieces of stuff. We need to actually address that and get all that stuff lined up and pulled together, which is what we are going to do.
And you have hinted that you have a new song "Nature Finds A Way."
Yes, my new environmental song that I wrote. It's so great now because I have a computer based recording studio, it's so easy to lay stuff down.
You've been working on a solo album for a while.
I have, and my wife has been yelling at me about when I am going to finish that. But I am working on it. I've been working on it all along. And Frankie is going to play some guitar for me, so that will be really great. I'll be happy to have him.
I know that you and Jimi had done some singing together before, with (former Survivor member) Jim Peterik…
Yeah, that's how I met Jimi. We both went out to do a benefit that Jim was putting on, and he (Jimi) is walking down the hallway in the hotel and he stops and goes "Dave Bickler." And I said "Jimi Jamison." We got to be really good friends right away. We have a great time singing together, it's really something. I don't think there's any other band out there that's had two different singers that are singing together.
What was it like on the first night of singing together as Survivor?
Well, we did of course rehearse before the first show, but right away it was amazing. Singing harmonies together and trading off each other. I'd sing a verse of a song of Jimi's, then Jimi would sing a verse off a song I sang, we'd do all kinds of stuff like that. We have really good harmonies.
What do you think about the whole Dave vs. Jimi debate?
Oh, gosh, I don't know. I mean the reactions that I get from people when we perform, is they are very welcoming to both of us. And I think people get a kick out of the fact that we are singing together. Also, we can do our whole catalog now.  We can do any song that the band has ever recorded.
What's been the biggest surprise about being back together with Survivor?
I guess I forgot how good the band was for one thing. When I first went to rehearsal, I was "wow, it sounds really good." And I thought this was going to be great, and it is really great. I love the fact that we have an adherent bit of looseness to our shows. And I don't mean that by sloppiness, I mean there's room for improvisation. It's not completely cut and dry. It's different each night.
What was the best ever gig?
I think last year at Sweden Rock, we had a really great show then, and also when we were in Elk Grove Village (Illinois), we had a terrific show there. It was great because it just happened, but it was really good. We got a tremendous response, and we had about 13,000 people there. It was great. It was a big crowd, it was a good show.
Do you approach it differently for a small crowd than a big one?
Not really. I mean obviously with a bigger crowd they make more noise. If you get them on your side and standing up that's great. But we pretty much do the same thing for a small room. They both have their virtues. A small intimate audience is kind of cool, you can see the people clearly. And there's something to be said for that.
Survivor is going over to Europe and you're doing nine shows in ten days, which is not something you guys have been doing. Anybody a little apprehensive about that?
I don't think so. I think it's ok. For me again, it's all about how I treat my voice, doing those warm-ups has such a humongous difference as far as stamina goes. So I'm not really too worried about it. We've done three or four shows in a row already, and we just sailed through. It will be ok, it will be alright.
Dave Bickler is currently on tour with Survivor throughout North America, with a European tour scheduled for October. He is also a supporter of PetsAlive, a no-kill animal shelter in Westchester County, NY.
Interview by Kath Galasso @KatsTheory
Comments
comments
Powered by Facebook Comments