Sterile Jets Release "Fireside Drive" in Advance of 'No Gods, No Loss'
Sterile Jets Get Ready to Release No Gods, No Loss
In trying to characterize their sound, California trio Sterile Jets  has been called Stoner Punk, Art Punk and even Noise Punk. No argument with those descriptions but let me offer one more. Loud.
The story behind the sound revolves around the conflicts and struggles confronted by all of us on a daily basis. Their bio states their music is a combination of noise and melody, romanticism and irony, and love and anger. It is also highly energized and did I mention… Loud.
Sterile Jets new album, No Gods, No Loss, has a release date of May 4th and a video for the first single "Fireside Drive," is available for viewing. Guitarist/vocalist Robert Bly Moore describes the video, "The video is based almost entirely on a bunch of clips, movies, and PSA's that are in the public domain. I edited it down into a loose (ok very loose) story, that matched the building tension of the song. The song is about a girl B.ILL was really into, but when he found out she wasn't into him, the song (and video) took a darker turn."
More than a bit ominous, the video is at times, creepy and morbid. And the clip of Fred Flintstone and Barney Rubble lying down smoking a cigarette was a little disconcerting. It is however, well edited and definitely follows through on Moore's description.
The album is filled with heavy metal instrumentation, growling vocals and well organized chaos. Sterile Jets pushes experimentation over the edge. The album is Raw. The album is Angry. Life is hard and you can feel the struggle through their music. It's music that can kick your ass and have you head banging at the same time.
The sound of Sterile Jets is not for everyone. It does however, fill a void for hardcore metal heads looking to gasp that unsterile air of uncompromising vision and deep gut-wrenching intonations.
Call it noise rock, call it metal, call it post-punk rock. Or just call it Loud.
Review by Kath Galasso @KatsTheory
Sterile Jets website
Members/Instruments:
Robert Bly Moore:  Guitar / Vocals
Wm B.ILL Partnoff: Bass / Vocals
GS Bean: Drums
Production: Produced by Bil Lane and Sterile Jets
Track Listing: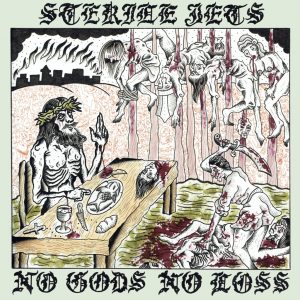 The Arsonist
Rehabilitated Truth
Go Out And Bleed
Piss On Your God
Soliloquy Of A Heartbroken Loner
Fireside Drive
White Satan
A Sterile Existence