The Rolling Stones Fire it Up in Abu Dhabi
By Marilou Regan
All photos credit: RollingStones.com (official)
The Rolling Stones fired it up with "Start Me Up" in Abu Dhabi on Friday for the first show of their 14 on Fire tour and their first appearance in the Mideast.
The Stones sizzled for their two-hour 19-song set and played with fervor for the die-hard fans who came from as far away as the Americas (North and South), Europe and Australia.
But for those locals among the 30,000 fans at the Yas Island's du Arena, it was a very rare treat since it's the first time the Stones came to play a concert in the culturally conservative United Arab Emirates.
Mick Jagger told a UAE radio interviewer that he's "always been looking forward to coming here." (With the band, that is, Mick was once there for a night.)
"I love playing somewhere for the first time," Mick said. "And I hope everyone gets out and really has fun! They can let their hair down and have a party."
The age-defying frontman, at 70, said that he knows fans from all the ends of the earth follow the band everywhere for the biggest rock 'n roll party in the world. But, when pressed, Mick said he couldn't predict how many fans were coming from afar.
"It's kind of interesting to see what the mix will be," Mick said. "I'm looking forward to playing to a kind of different crowd then perhaps we're used to in Europe or America."
When Mick took the stage (after seven months from the band's last show in London's Hyde Park), it was for a different kinda crowd, indeed. But there was one thing in common with every Stones fan at every concert – crazy, hysterical frenzy!
After a pyrotechnic introduction, the band burst onto the stage with Mick Jagger dressed in a sequined red satin jacket over black shirt and jeans, one of about six costume changes. And it's no wonder he needs to change often, Mick told the radio station that the sweat-inducing stage is 60 meters wide and the ramp is 40 meters long and that he "worked hard to get in shape" in order to conquer it.
The new stadium stage is similar to the one they used for the Hong Kong show in 2003, but with a sun burst arch, massive steel supports and a new video screen. And of course, Mick owned it.
Mick kept peppering his between-song banter with Arabic phrases such as "shukran jazeelan" (thank you very much) and "kaifa halek?" (how are you?).
He told the crowd that the band spent their four days in the capital with visits to Emirates Palace, Ferrari World and Falcon Hospital.
"Keith and I went to the Formula One track, we borrowed a couple of cars to have a race but all we saw was people riding bicycles. It's a weird track," he said, and the crowd roared. He rattled off the Emirates' names (forgetting Ajman), asked who in the house was from each place, and he got the biggest cheer for Dubai.
The band was in fine form with Keith Richards and Ronnie Watts weaving their guitars seamlessly and with Charlie Watts soldiering on with his power beat, and Darryl Jones rounding out the rhythm on bass. They were supported by long-time backing vocalists Lisa Fischer and Bernard Fowler and Chuck Leavell on keyboards. Bobby Keys and Tim Reis wailed on horns.
The Greatest Rock Band in the World rocked the casbah crowd with a set list that contained mostly chestnuts from their extensive catalogue, with a couple of departures, like "Angie," "Doom and Gloom," and Keith's "Slipping Away". In an online poll, the fans voted for "Gimme Shelter" to be played, and during "Emotional Rescue" the lyrics "riding across the desert on a fine Arab charger" drew big cheers.
One of the show's main highlights, as usual, was Mick Taylor guest guitaring on "Midnight Rambler" and "Satisfaction." Without fanfare, he walked on during Keith's "Slipping Away" contributing his beautiful lead on that mournful tune.
In the first encore, the Stones blasted "Sympathy for the Devil" and "Brown Sugar" and in the second one, switched it up with "You Can't Always Get What You Want" with the The Al Khubairat Singers, and left the insatiable crowd with "(I Can't Get No) Satisfaction" and pyrotechnics from the roof.
The Rolling Stones took Abu Dhabi by storm and as they jetted off to dazzle the next audience, they left behind their primal rock sound that will forever vibrate in every grain of sand in the surrounding desert.
Post Script: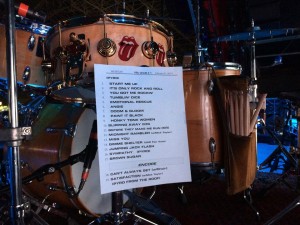 The opening show followed two weeks of rehearsals in Paris where a lucky group of 27 fans (many of whom had been camped out for days) got a special Valentines Day gift – the ultimate Love You Live. They were invited into rehearsals that evening for a private show of their own and got to hear 11 songs performed, including "Silver Train" (with Mick Taylor) and "Doom and Gloom".
The Rolling Stones are traveling to Japan next, where they will stay for eight days and play three sold out shows at the Tokyo Dome, starting up on Wednesday, February 26th.
Set List:
Start Me Up
It's Only Rock 'N' Roll (But I Like It)
You Got Me Rocking
Tumbling Dice
Emotional Rescue
Angie
Doom And Gloom
Paint It Black
Honky Tonk Women
-Band Intros
Slipping Away (with Keith)
Before They Make Me Run (with Keith)
Midnight Rambler (MT)
Miss You
Gimme Shelter (the UAE's vote online)
Jumping Jack Flash
ENCORE 1
Sympathy For The Devil
Brown Sugar
ENCORE 2
You Can't Always Get What You Want (with the Al Khubairat Singers)
(I Can't Get No) Satisfaction MT
Marilou Regan, fan archivist/historian, writes about the Rolling Stones and their fans for her website, Love You Live, Rolling Stones and in her eponymous book and fanzine.