Ray LaMontagne in Indianapolis: Reviewed

On a beautiful evening last night at downtown's Lawn at White River State Park, the great Ray LaMontagne took the stage for a solo acoustic set. About four notes into his first song, he stopped, drank some water and apologized to the audience that he was losing his voice, but would do the best he could. The best he could was more than enough for this enthusiastic, but amazing quiet audience, who were there for the music.
For over ten years, this singer/songwriter has pieced together folk rock that falls somewhere in the middle of Joni Mitchell's Laurel Canyon to the quiet introspective influence of the late Nick Drake.
His music has been noticeably influenced by Mitchell, with his "Beg, Steal or Borrow" so much like her "Court and Spark" album, one cannot help but draw a parallel with the open tuning and slide guitar in both songs. LaMontagne's 2014 offering, "Supernova", was produced by Dan Auerbach of the Black Keys, and his latest release, "Ouroboros" offers a work of private exploration but delivers a stronger sound, thanks in no small part it's producer, Jim James of My Morning Jacket.
Other members of My Morning Jacket also play on the new album and joined LaMontagne for this show, offering more of the "show" while complementing the music. My Morning Jacket did much of the heavy lifting, but one cannot deny that Ray brought forth his musical genius.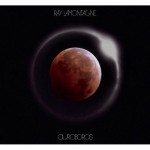 The folk-rock troubadour is private and introverted on stage. He uses lights less to shine attention on himself than to almost conceal himself from his audience. Photographers may only shoot from the right side of the audience, at least 15 rows out, and due to LaMontagne's lackluster antics on stage, many of the photographs are so similar, we cannot really show you a gallery, but a few photos and the proposed setlist are below.
Grade:  A
Below is the preliminary set list, but due to his voice problems, some of the songs were not performed.
Solo Acoustic
Burn
Play Video
Jolene
Play Video
Like Rock & Roll and Radio
(Ray LaMontagne & The Pariah Dogs cover)
Play Video
Trouble
Play Video
"Ouroboros"- Full Band w/ members of My Morning Jacket
Homecoming
Play Video
Hey, No Pressure
Play Video
The Changing Man
Play Video
While it Still Beats
Play Video
In My Own Way
Play Video
Another Day
Play Video
A Murmuration of Starlings
Play Video
Wouldn't It Make a Lovely Photograph
Play Video
Full Band
Lavender
Play Video
Smashing
Play Video
Airwaves
Play Video
Drive-In Movies
Play Video
Encore:
She's the One
Play Video
Julia
Play Video
All the Wild Horses