Concert Review: Peter Frampton's Guitar Circus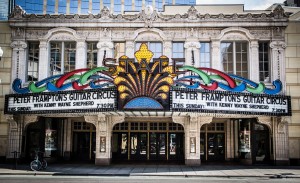 The elegant State Theatre in Minneapolis is almost a century old. It was built in 1924 and at the time was the grandest theatre in the United States. Built to seat 2,100, the legroom is generous and the sight lines impeccable from anywhere in the venue. It has housed everything from opera to movies to religious ceremonies in its long and celebrated history.
British guitarist Peter Frampton has a unique history of his own. Starting his music career in 1966 at just 16 years old with British pop band The Herd, he joined the celebrated and influential Humble Pie several years later in 1969 and recorded four albums with them. He went solo in the early '70s and eventually became one of the biggest touring acts in the world, thanks to the popularity of his live album Frampton Comes Alive and subsequent hits. He's even been immortalized on the popular animated sitcom The Family Guy.
Over 40 years later, Frampton is still touring extensively. On July 21st, the iconic guitarist rolled his Guitar Circus into the State Theatre, bringing with him opening act Kenny Wayne Shepherd and featured guest Steve Lukather. Frampton has been on tour all summer, bringing along luminaries such as Don Felder, Roger McGuinn, Rick Derringer, and Robert Cray on various stops. For fans of extended solos and guitar-driven mixes, these shows are custom-made for you. The amp cases and stacks of cabinets are easily visible on stage, creating a great vibe reminiscent of yesteryear before musicians moved to in-ear monitors (which negates the need for large stacks of amps). However, it was not too loud. You could feel the music yet not have to yell at the top of your lungs to an usher or the person with you.
There is a liquor bar in the lobby of the State Theatre, and you can bring booze to your seat. So you can imagine by the time blues guitarist Kenny Wayne Shepherd hit the stage at around 7:45 to warm up the room, the place was already lit up – both literally and figuratively. To hoots and hollers, Shepard coaxed hellfire and brimstone out of his trio of Stratocasters that he alternated throughout the set. A highlight was a scorching rendition of The Beatles' "Yer Blues," which sounded even more ominous than the original. On stage Shepherd is confident but reserved. He gives the audience all he has musically, yet does not make much eye contact or show a lot of emotion. He prefers to connect through his guitar, which he does effortlessly.
Notable in Shepherd's band is former Stevie Ray Vaughan drummer Chris Layton who has been backing up this wunderkind since the '90s. It is fitting because Shepherd is a clear disciple of SRV and comes close to rivaling his mentor's intensity at times. The only minor irritant of the opening set was the video backdrop that featured two screen-size white guitar picks and "KWS" in red and gold script in the bottom left corner. These images were blinding to the audience, and it was also hard at times to see the band due to the inadvertent back lighting. This, of course, was largely a moot point to the majority of the crowd who were mesmerized by Shepherd's aggressive, hard-rocking guitar style.
As Shepherd exited the stage to raucous applause, the roadies began their switch-over as the crowd got up to replenish their beverages. About 15 minutes later the houselights went down once again, and Frampton appeared to a thunderous unified roar. He was simply but classily dressed in blue dress shirt and black pants. His face beamed with excitement as he flashed his famous smile that broke a million hearts in the '70s. Coming across as genuinely happy to be there, he dug into his set with gusto as his four-piece band fed off the good vibes of its leader. Frampton's band consists of Rob Arthur on keys/guitar, Adam Lester on guitar, Dan Wojciechowski on drums, and Stanley Sheldon from the original '70s lineup on bass.
An early highlight on the setlist was "Lines on My Face," which removed any doubt that Frampton still has a mastery over his instrument. His style, highly evident in this performance, is characterized by flourishes that vary in speed and intensity as he utilizes an array of scales and modes. Both his tone and playing easily match his earlier self on record, and it's quite evident that he's gone even further into experimenting with different approaches in his soloing. He plays around with the straightforward nature of the chord changes in a progressive way, pushing the constraints and creating an interesting dichotomy between rock and jazz within the instrumental sections of the songs.
Playing mostly Gibson electrics, Frampton switched back and forth between Les Pauls and hollowbody 335s. He recently re-acquired his famous 3-pickup Les Paul custom after losing it in a Venezuela plane crash in the early 80s. (It turns out a guy was playing it in a Curacao nightclub after buying it off someone who recovered it from the crash. To make a long story short, he got it back and its been refurbished for the road.) He was running a series of vintage Marshall amps, set off in racks to the side with his cabinets behind him. His tone of course was outstanding, as was the house mix in general. The front mixing engineer was diligently riding electric solo volumes throughout the show, which ensured that the audience heard every bend, passage, and chord.
Frampton's Martin acoustic also rang out very naturally in the hall as he effortlessly strummed the intro to "Baby I Love Your Way." Ubiquitous on classic radio, this song nevertheless sent waves of nostalgia through the audience, many of whom were teenagers slow dancing to this song in the high school gym when it was originally at the top of the charts. Here Frampton displayed the potency of his plaintive yet slightly gravely voice, which has been flawlessly retained throughout the decades with regard to range and tone.
About a half-hour into the show, Frampton introduced legendary Toto and L.A. session guitarist Steve Lukather as "one of the best guitarists on planet earth." Luke certainly wasted no time proving this to the audience as he coaxed them out of their seats with the Toto classic "Hold the Line." Originally sung by Toto vocalist Bobby Kimball, Luke nonetheless belted it out convincingly and burned off a blistering solo in the meantime. Luke's 35 years on the stage was evident as his presence brought the whole show up a notch. Like Frampton, his concentration is squarely on the audience and his goal is to make sure they're engaged and feeling great. After "Hold the Line," he backed up Frampton on another tune before bowing out for a later return.
Another highlight of the show was Frampton's famous "Do You Feel," from his multi-platinum 1977 album Frampton Comes Alive. The song certainly came alive again as it extended into a 10-minute opus of leads from both Frampton and keyboardist Rob Arthur, who faithfully brought along the original Fender Rhodes piano model used on the original live recording. Frampton extensively featured his trademark Talkbox guitar effect on this tune, playfully using it to say humorous things to the audience. It is noteworthy that Frampton has not shied away from this "gimmick" after almost 40 years of using it; he is obviously well aware of his direct association to it, and of course the crowds would revolt if ever tried to hang it up. In addition to utilizing it on the hits, he also put it to good use on his instrumental version of Soundgarden's "Black Hole Sun," singing the chorus through it toward the end of the song. It was a good move in that it released the tension from a song that most people are accustomed to hearing with the lyric.
Frampton and the band brought Lukather back out with them for the encore, delivering a haunting version of The Beatles' George Harrison composition "While My Guitar Gently Weeps." Both guitarists have a personal connection to the quiet Beatle. Frampton played on Harrison's debut album All Things Must Pass, and Lukather became friends with Harrison in the '90s. (Lukather performs a version of this song with Toto as well.) Together they summoned George in that eloquently adorned Minneapolis concert hall, tastefully giving each other room as they weaved their subtle guitar parts through the song.
Not a person was left in the seats as the band bowed, exited stage left, pulled up stakes, and moved their circus to Denver for the next show. A sense of satisfaction and exhilaration set over the departing audience as they nodded in assent to one another about the greatness of the show. It was one of those rare concerts where venue, audience, and performer work together flawlessly to create the perfect environment. The ushers and security were very friendly, the audience was enthusiastic, and Frampton was beaming from ear to ear for the duration of the show. You can't really ask for more from a rock show than that.