Gone But Not Forgotten: Nick Drake, Pink Moon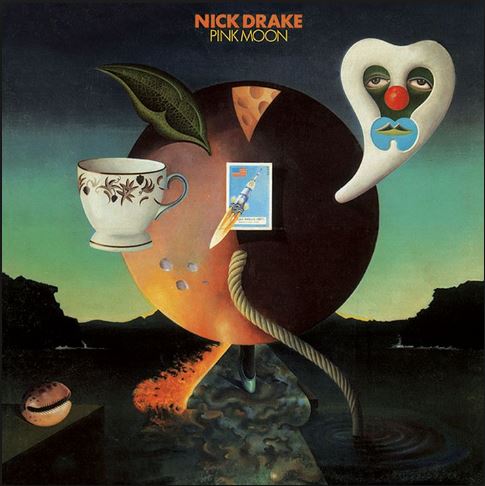 45 years ago, Nick Drake's "Pink Moon" was released. It's the third and final studio album by the English folk musician Nick Drake. Released in the UK by Island Records on February 25th, 1972, it was the only one of Nick Drake's studio albums released in North America during his lifetime. Nick Drake never had anything resembling a hit in America, but "Pink Moon" is his most popular and recognized song after Volkswagen used it to sell their Cabriolet in a 1999 commercial.
Nick Drake had made the decision that this album would be as plain as possible and free of the numerous guest musicians that he had used before. The album contains just Drake's voice, piano and acoustic guitar. These three elements are all that is heard on the entire album, as there were no outside musicians involved. In fact, the only man who seemed to know that Drake was even making the album was his producer/engineer John Wood, who was recording it. Wood had worked with Drake on his previous two albums and was one of the few people Drake felt he could trust.
Even then, Drake was being called, "the great silent enigma of our time." His record company, Island, claimed that they had lost track of him, and only knew about the album when Drake walked into Chris Blackwell's office and delivered the masters. The album was recorded at Sound Techniques studio in London in late October 1971 with just Drake and Wood present. The studio was booked during the day, so Drake and Wood arrived around 11:00 p.m. and simply and quietly recorded half the songs. The next night, they did the same. In only two late night sessions, with just his voice and acoustic guitar, Drake created what is considered by many to be one of the "most influential folk albums of all time".
In an interview for the Nick Drake fanzine Pynk Moon in 1996, Island's press officer David Sandison recalled that Drake's arrival at the record company had certainly not gone unnoticed, although there had been no indication that he was delivering them a new album:
"I saw him in reception after I came back from lunch and I was talking to somebody and I saw a figure in the corner on the bench, and I suddenly realized it was Nick. He had this big, 15 ips [inches per second] master tape box under his arm, and I said 'Have you had a cup of tea?' and he said 'Erm, yes', and I said 'Do you want to come upstairs?' and he said 'Yes, okay'. So, we went upstairs into my office, which was on top of the landing, it was a landing that went into the big office with a huge round table where Chris and everybody else worked—very democratic—and there was a big Reevox (sic) and sound system there, and he just sat in my office area for about half an hour … After about half an hour he said 'I'd better be going', and I said 'Okay, nice to see you', and he left. Now, he went down the stairs and he still had the tapes under his arm, and about an hour later the girl who worked behind the front desk called up and said 'Nick's left his tapes behind'. So, I went down and it was the big sixteen-track master tape and it said NICK DRAKE PINK MOON, and I thought 'that's not an album I know'. The first thing to do was get it in the studio to make a seven-and-a-half-inch safety copy, because that was the master. So, we ran off a safety copy to actually play, and I think twenty-four hours later or so, it was put on the Reevox in the main room and we heard Pink Moon."
The singer was said to be battling depression when he made this music. The lyrical content of "Pink Moon" is haunting, melancholy, deeply personal, and revealing. It provides an insight into his state of mind and the troubles he was having emotionally. The lyric is very simple, with the same verse repeated twice:
Saw it written and I saw it say

Pink moon is on its way

And none of you stand so tall

Pink moon gonna get ye all
"Pink Moon" would be Nick Drake's last album; two years later, at the age of 26, he was dead. He released only three albums, but decades later, musicians are still discovering his work and citing him as an influence. His Cause Of Death was determined to be suicide from an overdose of approximately 30 amitriptyline pills, a prescribed antidepressant.
Mark Plummer, a reviewer for Melody Maker, spoke about Nick Drake in a May 1972 issue before Drake's untimely death and said, "The more you listen to Drake," "the more compelling his music becomes—but all the time it hides from you … It could be that Nick Drake does not exist at all."
Nick Drake was ethereal, and sensitive. His talent was lauded while he was alive, but he was a hard artist to pin down among the glitz and excess of 70's era rock-n-roll. Competing with 70's showmen like Robert Plant, David Bowie, or Elton John was not part of Drake's programming. He never had his "Lizard King" moment or played Woodstock, but his musical contributions have left a lasting impression. Today, in the age of digital downloads, where everything old is new again – he's a bright, shining, diamond waiting for new music lovers to discover.
"Pink Moon" is timeless and Nick Drake has reached immortality.  Gone, but not forgotten, Nick Drake is everywhere. Thanks for playing.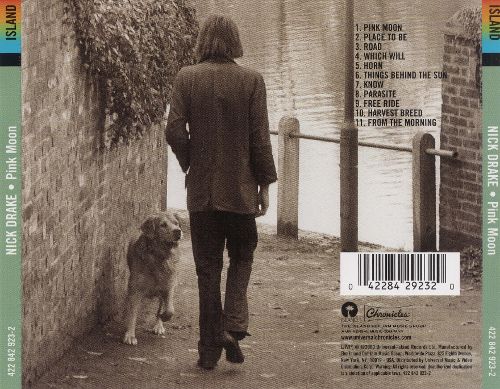 Track listing
All songs written and composed by Nick Drake.
"Pink Moon"
"Place to Be"
"Road"
"Which Will"
"Horn"
"Things Behind the Sun"
"Know" 2:26
"Parasite"
"Free Ride"
"Harvest Breed"
"From the Morning" 2:30
Comments
comments
Powered by Facebook Comments