Miranda !
The night was certainly a bit chilly for an outside concert, but the crowd of over 20,000 didn't seem to mind as Indianapolis was the second stop of the Miranda Lambert tour, titled "Keeper of the Flame", and she brought supporting acts Brothers Osborne, and Kip Moore, stars in their own right, and is sure to go down as one of the best shows, and the season opener at Klipsch,
Grammy Award winning singer-songwriter Miranda Lambert is the reigning six-time CMA and seven-time ACM Female Vocalist of the Year (the first time any female has won 7 consecutive years). The first single off of Lambert's fifth studio album, Platinum, "Automatic," was Lambert's highest charting first week single to date and won CMA and ACM "Song of the Year".  Her duet with Carrie Underwood, the album's second single, "Somethin' Bad," has been certified as an RIAA Platinum Digital Single.
After taking a rather public hit in her personal life, there was no sign that this fantastic entertainer was any worse for the experience. Energetic, positive and stunningly beautiful, she brought the crowd to their feet countless times.
About the new album Platinum
"We live a life so we can sing about it," says Miranda Lambert, and it feels like a mission statement.
Consider all the living she's done since she stomped onto the scene with Kerosene in 2005: she is the six-time reigning CMA and seven-time ACM Female Vocalist of the Year, a Grammy winner with four award winning Albums of the Year under her belt, and a happily married woman whose personal foundation, MuttNation, has raised millions of dollars for pet shelters across the country. Take in all that, and you suddenly realize that the little blond spitfire from Lindale, Texas has grown up right before our eyes.
With her fifth album, Platinum, which debuted at #1 on the all-genre Billboard 200 Album Chart and Billboard's Country Albums Chart, she's taking stock, and turning the page on where she's been. "I look back at my twenties and everything that I did – I worked hard and I played hard, and I have all of that under my belt to sort of reflect on," she says. "But I feel like when you hit 30, you have to hold yourself accountable. I need to own up to my own shit. I don't have anything to hide, so whatever I'm going through, I want to sing about it – because somebody else is going through it, too."
Sensitive words from a talented grown woman… but then again, she's still got that pistol tattoo. "I don't think I'll ever grow out of being a little spitfire," Lambert laughs. "But I'm kind of done with the whole 'I'll kill you and burn your house down' thing. I mean, I'll still burn your house down if I need to, but I won't sing about it. I'll just come do it."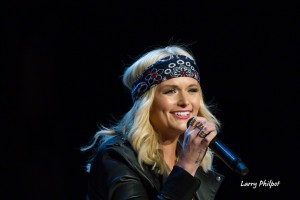 Lack of arson metaphors aside, the first thing you notice about Platinum is that, like Four the Record and Revolution before it, this is AN ALBUM. "I don't even know how to not make an album," Lambert replies when you ask her about sequencing in the age of track downloads and streaming services. "That's why I have 16 songs on this album when I'm not supposed to. I don't know how to listen to a demo and say, 'Oh, that's a hit,' and go cut it. Because what if it's not? I like to cut records." She credits albums like Allison Moorer's Alabama Song with teaching her the craft by example. "When I was 17, I was just trying to learn how to write songs, and if I didn't hear every song on that album, I wouldn't have understood why songwriting is so important," Lambert says. "I wouldn't understand all the emotion in her. To me, if you say you're an artist, then you need to make art. If you don't make a record, then it's not a full picture. It's not a portrait. It's like you painted a few things, but didn't finish it." With trademark stubbornness, Lambert concludes: "I don't know any other way. And I don't want to know any other way. This way's working."
Lambert and her Four The Record production team of Frank Liddell and Chuck Ainlay went into the studio in August of 2103 for seven days to record Platinum, but the album – which takes its title from track two, a campy celebration of record sales and dye jobs – wasn't completed until January. "I was very nitpicky about this one," Lambert confesses.  "I was way more involved with certain sounds, certain background parts and guitar parts. It was really the most intense emotional record I think I've ever made. I'm the most attached to it. I think that comes with age, too: You just care so much about what you've worked so hard for." She got in a room with her favorite songwriters and poured out her guts in Oklahoma, Nashville, Texas, Michigan, or wherever she happened to be at the time; she pulled outside cuts that told stories she related to in voices that felt familiar; she even found herself intimately involved in the mixing process, texting her producers at midnight and 6 a.m. "All I can do as an artist is say, 'Every one of these songs matters, every one of these songs is my baby,' and hope somebody cares," Lambert says. "Because I love my job. For this album to be successful and allow me to keep doing my job? That's why I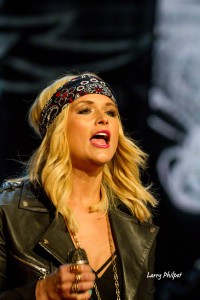 care so much."
It's perhaps fitting that, just as Lambert chose to immerse herself in the craft of classic album-making, Platinum's first single, "Automatic," likewise plants a defiant flag in the ground for the simple pleasures of a bygone age. Celebrating clotheslines and '55 Chevys, snail mail and Sun Tea, its chorus asks the question a lot of us find ourselves pondering these days: "Hey, whatever happened to / waitin' your turn / doing it all by hand?" Co-written by Lambert alongside Nicolle Galyon and Natalie Hemby (a close friend and frequent collaborator), it's a perfect example of what Miranda does best: combining maximum melody with maximum truth. "To me, 'Automatic' has a feel kind of like 'Dead Flowers,' one of the songs I'm most proud of in my career," Lambert says, referencing the first single off 2009's Revolution, a similarly slow-burning powerhouse. "I'm proud that we were able to bring that feeling back to life." Once the track was complete, only one question remained: would "Automatic" fit in the landscape of modern country radio? "I listen to nothing but country radio, literally," she says. "What does it sound like when they say, "New single from Miranda Lambert" right after they played Luke Bryan and before they play Kenny Chesney? Hearing it on the radio, I could breathe. It does fit. We're good." "Automatic" hit #1 the week after Platinum was released.
Platinum is indeed an album built on those types of comfortable friendships, whether it's Hemby's bespoke songwriting, Lambert's long history with producer Liddell, or the deeply creative bond she shares with husband Shelton. Even the guest appearances came about the old-fashioned way: Lambert simply asked her Nashville friends to join her. Thus do Little Big Town provide a rich tapestry of harmony on "Smokin' and Drinkin'"; Carrie Underwood trades vocal licks with Lambert on the single "Somethin' Bad"; and Vince Gill and the Time Jumpers bring  Texas swing to life on the Dixie and Tom T. Hall classic "All That's Left." The story behind the duet with Underwood is surely the most epic: "It took me forever to write the email [to her], like I was writing a text to a boy or something," Lambert remembers. "But she emailed back and said, 'Let's do it!'" Lambert says that day in the studio was nerve-wracking. "Carrie came in and was like, 'We should adlib some!'" she recalls. "And I'm like [humming] mmmmm… and she's like [belting] yeaheaheaheahhh! I literally started laughing when she did that. Like, I'm just gonna sit down, because I can't ever sing like that." (For the record, Lambert more than holds her own.)
Two of the most powerful women in country music throwing down on "Something Bad" should generate some chart-shaking excitement amongst the fan faithful, but the fact that the song may still have to fight to belong in the current country climate isn't lost on Lambert. "I feel like for a minute girls in country were really rockin', and then the line [of guys] kept growing and we started to get shoved off the edge," she says, the fire in her eyes starting to burn. "And it's like, 'Hold on now! Scoot on over!' If we want to get back to the middle, we're gonna have to push some of them off the edge." Lambert says she has nothing against the men who dominate the dial with their tailgates and tan lines: "I have Florida Georgia Line on my iPod. I crank it up on the pontoon in the summer. Luke Bryan is a Cutie McCuterson. All of it I love. But I can't sing about that. Nobody would believe me. I want to sing about stuff that resonates with me. There's room for all of it, so I just want to make sure the door doesn't close on singing about clotheslines, too."
With millions of fans around the world enjoying Platinum, it seems there's little risk of the door closing on Lambert any time soon. Frankly, the biggest question may be where she goes from here. Given the number of awards and accolades under her belt, it's safe to say she's risen from scrappy underdog to the top of her field – so what's next? Lambert says she tries not to overthink it. "Awards mean everything and nothing," Lambert says. "But you can't say, 'Well, I've made it now.' You have to say, 'How can I push myself to be better?' You see someone who works harder than you, and it's like, 'How can I be more involved, more invested?'"
As she balances her music career with MuttNation and her budding entrepreneurial side – she's opened two Pink Pistol boutiques in Texas and Oklahoma, and a signature line of shoes– Lambert says she frequently finds herself admiring the way Beyoncé operates. "We're close in age, and I see her delve into every single part of her career," Lambert says. "Then I see the places where I realize, 'I've got people to do that part.' I need to step up and take care of my business." Lambert also finds herself constantly surrounded by musical inspiration: "Someone like Carrie – just singing with her shows me that I get too comfortable in my little zone. Ashley Monroe – how can I turn a phrase like she can? Lady Gaga – I want to be that brave." Lambert pauses. "I keep mentioning girls, but I think it's because I can relate. They have kids or marriages and households to run, and they're digging their heels into their career at the same time. I always said I wanted to build an empire. You don't build an empire by settling once you've won something, or sold this many records. You gotta go the next step."
A big part of that next step will involve a guitar and a notebook – which is, of course, how she got here in the first place. "From day one, I've been blown away by Miranda's songwriting," says Hemby. "And it's no surprise, because her heroes are some of the greatest country songwriters that have ever lived. She grew up on their words and applied them to her own story." To Lambert, the stories she tells are just an opportunity to help other people understand their own. "As I get older, I think I'll have more time to branch out and write songs for other people," she says. "I want to make other girls, other people feel like what I'm doing is attainable. Some people are untouchable, and that's why they're superstars. But there are also some people I feel like I could just hang out and have a beer with. I'm one of those people."
Frankly, says Lambert, at 31 years old, she's just getting started. "I'm so excited," she says. "There's so much more life to live, so much more to write about, so much more to say. The most fun part is when you have no idea what's going to happen, but you feel this excited energy. I feel that again."
Lambert grins. "I'm only halfway to 60. It's not that old."