Marty Robbins, El Paso & Breaking Bad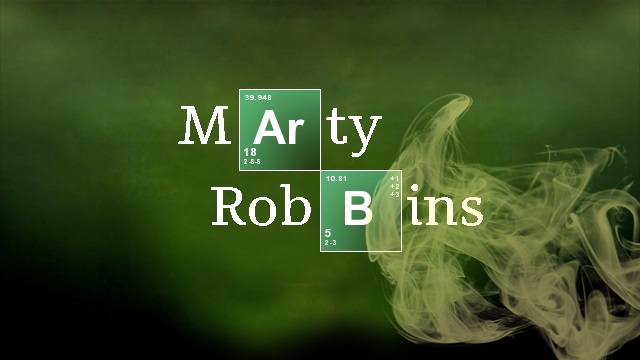 January 4th, 1960, country music singer Marty Robbins hits #1 with "El Paso".
Marty Robbins was already a popular country singer in late 1959, with four Country & Western  #1 hits, including the first hit version of "Singing the Blues" and his own composition "A White Sport Coat and a Pink Carnation" (which became a huge crossover hit as well).
Robbins released an album called Gunfighter Ballads and Trail Songs in 1959 that featured two of his most popular and enduring songs: "El Paso" and "Big Iron." "El Paso" is a lengthy ballad about a cowboy who kills a man over the love of a woman named "Felina," then escapes justice, only to return to El Paso to die in his woman's arms. "El Paso" won the first Grammy ever awarded in the category of Best Country & Western Performance.
The story goes that Robbins had the idea in 1956 and wrote the song in 1958 from the back seat of his turquoise Cadillac, while his wife, Marizona drove. They were making a traditional holiday trek, traveling from Nashville to Phoenix for Christmas and stopped at Rosa's Cantina in El Paso, Texas. A couple of hours later, the couple stopped in Deming, New Mexico and the song was already complete. What came out was an entire self-contained Western, performed in 4 minutes and 38 seconds.
This song appears in the series finale of AMC's hit drama, Breaking Bad, titled, "Felina," the name of the girl at the center of Marty Robbins' "El Paso." Plenty of fans made the connection before the episode aired and some impressive postmortems of the potential meanings and interpretations went online after the airing. Stephen Colbert talked to Vince Gilligan about the song and asked if Felina was Jesse or the blue meth, and Vince basically said Felina was the blue meth. Here's the end of the song and the video link if you want to try and find the parallels to the final moment of the Breaking Bad episode:
Something is dreadfully wrong for I feel

A deep burning pain in my side.
Though I am trying
To stay in the saddle,
I'm getting weary,
Unable to ride.

But my love for
Felina is strong and I rise where I've fallen,
Though I am weary I can't stop to rest,
I see the white puff of smoke from the rifle.
I feel the bullet go deep in my chest.

From out of nowhere Felina has found me,
Kissing my cheek as she kneels by my side.
Cradled by two loving arms that I'll die for,
One little kiss and Felina, good-bye.