Knoxville to Host the Scruffy City Film and Music Festival
A city with a music festival is one thing. A city with a film festival is another. But if you're lucky enough to find yourself in the city of Knoxville, Tennessee anytime from April 28th-May 3rd, you can enjoy the best of both of those worlds along with a large portion of fun and Southern hospitality. The Scruffy City Film and Music Festival  is a five-day event filled with Feature and Short films, Music Documentaries, Live Regional Music, Short Animations, Musical Competitions, Panels, Workshops and an abundance of social activities.
Now entering its sixth year, the Music & Film Fest received over 380 film submissions from thirty countries. Films entered into the competition were required to either have a musical theme or a strong musical score or soundtrack. Getting those submissions was the easy part. Narrowing the list to those fifty films which will be shown was a whole lot more difficult. According to Festival Director Michael Samstag, because the quality of the films submitted was so strong, the last round of decisions was "brutally painful."
I recently had the opportunity to speak with Michael Samstag about those decisions and what's in store for those attending the Scruffy City Film & Music Festival.
Kath Galasso: How many years has the festival been going on?
Michael Samstag: We've been producing a festival for six years. The first four or five years we did a 24-hour film competition here in Knoxville. It was a very beloved festival. Three years ago we started doing a Film & Music Festival. We're no longer doing the 24-hour festival, instead we've added Film Score which is this celebration of music and film, and that has just really sort of rocketed the festival. The amount of submissions is slightly more than last year, but the quality of submissions has just been incredible.
How did the 24 Hour Challenge work?
Filmmakers had 24-hours to make a complete film. We'd give them all kinds of ringers and secret elements that had to be included, so they couldn't shoot it in advance. It was a complete and total format film in 24 hours. And some of our 24 hour submissions went on to play at the National Film Festival, which is an Academy Award qualifying festival. It was pretty unbelievable the level of work that was being done.
And what made you change the format?
We just thought that it was time to do something new. For me, once something is up and running… is successful and perfect, I lose interest pretty quickly. When we started there was nothing like it. Five years later there's like five different shoot-outs happening in town. So it was time to just break apart and do something totally different.
Tell me about this year's Film Score Challenge.
Composers had five trailers to choose from that didn't have music and they scored them. And we chose the sixteen best of those. Our panel of judges will then narrow it down to determine who the actual winner of that is. Our music judges are award winning composers, and I hate those words "award-winning," because there are so many awards that don't mean much, but these are some big cats.
This year you seem to be focusing a lot on students, with free screenings, chair massages and therapy dogs. It's a very interesting concept, how did that come about?
Well, we moved our festival this year so we could be more accessible to students. In the past our festival was in June, so there are only summer classes going on. So we moved into April to include them better. Unfortunately the best week for us that didn't have another festival going on was the last week of April, which is sort of the week after classes and some people are starting finals. If they were students like me, they are going to be partying and looking for something to do. And for those students who actually study and work hard, bless them, it's a perfect stress breaker. If you need a break, just come watch a movie, get a chair massage, and settle up with a Great Pyrenees while watching a film, having a beer, eating something. Anything we can do to attract an audience (1) and students (2), we're always interested in doing.
This year we grouped our Shorts into very marketable blocks for different audiences. We're using different organizations to promote our feature films. So half of my job is to select the best films, and the other half is to attract as big an audience as is humanly possible.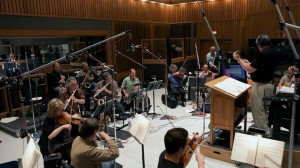 Tell me about some of the panels and workshops that you'll be having.
I can tell you about one called "The Future of Live Rock and Roll Shows." I just have this belief that not much has changed in the rock show world in fifty years. But we've seen crowdsourcing, digital and social media shake up everything, and I have the feeling it's only a matter of time before it shakes up rock shows. And it's begun to, but the show itself, I think, still hasn't felt the full ripple effect of what this is all going to be. So we've got lighting people, sound people, video wall people, interactive media type people, who are going to have a panel about that.
The other panel is going to be something for filmmakers and composers… work flow-work process collaboration. A lot of our filmmakers here in town are just starting to get to that point; they're maybe working with a composer, working with a sound designer or in a larger context. Those are the two workshops we have slotted.
For someone who will be visiting Knoxville for the first time, what can they expect.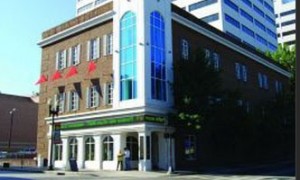 Knoxville is really an emerging city and our downtown area is tremendous. The Festival takes place in the very, very thick of it which is Market Square. During the weekends you're going to see musicians, a magician, and farmers markets going on, with tens of thousands of people walking the streets. It's a place where you can park your car and walk to dozens of restaurants, bars, great shopping, and nearly all of it is still local-regional. It's a very beautiful city right on the Tennessee River. If you're flying in, you can take an Uber from the airport to down town and never need a car the rest of the trip you're here. The restaurants are phenomenal, there are all kinds of different breweries and great bars, and our facility is in the thick of it. Probably the most popular pub in town is the Preservation Pub and that's owned by the same owners as the Scruffy City Hall where we hold the festival.
Scruffy City Hall is a large hall that fits about 100 people downstairs and another 40-50 people upstairs in the balcony. There's a bar and patio on the first floor, a bar and patio on the second floor, and the third floor is an outdoor rooftop bar. That's opening just in time for the festival this year, it's a new addition. The whole building was built just in time for the festival last year. It's intimate, it's cozy, it's awesome. You can have a beer or cocktail in your hand, order some food and enjoy the movie.
Will it only be used for films or will it be a multi-use venue?
It will be multi-use and we have some great bands scheduled including The Features, a phenomenal band out of Nashville. So we pull out the seats after the last showing and the band takes the stage. It's a phenomenal place to see a show as well. There are two other stages at the Preservation Pub, so there are three stages with music throughout the Festival.
On Tuesday April 28th, the Scruffy City Film & Music Festival kicks off with a party on the rooftop of the Scruffy City Hall, and will continue through Sunday night when the awards are handed out. For more information on the Festival, check out their website.
Scruffy City Film & Music Festival website
Interview by Kath Galasso  @KatsTheory
Comments
comments
Powered by Facebook Comments