Johnny Cash, His Early Years – Legends in Concert
"Johnny Cash — The Man In Black — His Early Years"
JR Cash – Legends In Concert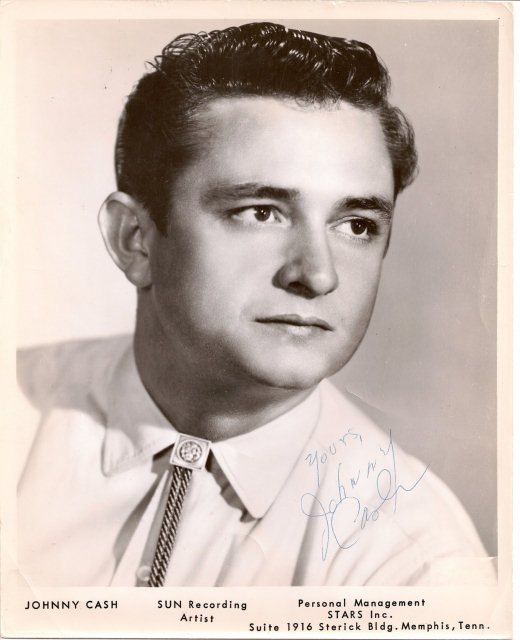 Johnny Cash has one of the most recognizable voices in country music. Even in death, Cash is an influential figure in the genre.
Born Feb. 26, 1932, in Kingsland, Arkansas. J.R. was the second oldest of six children belonging to Ray and Carrie Rivers Cash. When John was 3 years old, his father moved his young family to Dyess Colony in northeast Arkansas where the Cash family farmed over 20 acres of cotton. John spent most of his childhood working in the fields with his family where his mother would sing songs to keep the children's minds at ease.
Music was an essential part of everyday life in the Cash household. Every night John would listen to the radio until it was time for bed. His mother's songs in the fields and the songs on the radio is where John became more influenced by music. These childhood memories influenced some of his popular songs in his music career. "Pickin' Time," "Five Feet High and Rising" and "Look at Them Beans" are some songs that John later wrote to tell the world about his childhood.
In 1954, John auditioned at Sam Phillips' Sun Records where he was almost immediately turned down because of his gospel styled music. By that following spring, John came into the studio with his new band, the Tennessee Three. The original group was made up from guitarist Luther Perkins, and bass player Marshall Grant. After this audition, the Tennessee Three released "Hey Porter" for this label company. Even though this single was pretty popular, the song never made the charts. The Tennessee Three had another release from Sun Records "Cry, Cry, Cry" which had a better outcome peaking the charts at number 14. A long series of singles made the charts. "So Doggone Lonesome" and "Folsom Prison Blues" are the names of some of the next songs recorded, which both made it into the trade publication's Top 10. John's fourth chart single "I Walk the Line" made some major changes in his early career rapidly peaking to the Billboards number one spot and remained on the record charts for an amazing 43 weeks, eventually selling over two million copies. In 1956, he realized a longtime dream was coming true when he was invited to perform on the Grand Ole Opry. By 1957 John had racked up an impressive string of hits and was touring more than 200 dates a year. The following year the band switched to Columbia Records in search of more freedom.
This program features performances from Johnny Cash, where his raw talent is evident. The show features sixteen memorable songs, from 'Five Feet High and Rising' to a humorous parody of Elvis Presley on 'Heartbreak Hotel.'"
Comments
comments
Powered by Facebook Comments