'Dance By The Riverside' with Jordan Okrend

Jordan Okrend has figured out how to chill.
Stress. We all have it.
It's time to take a break and find a way to release just a little of it. Jordan Okrend is a singer-songwriter based out of Asheville NC. His music is soulful, a little funky, with a little pop and jazz thrown in for good measure. His lyrics can also offer a socially conscious edge.
But back to the stress.
Ever have a day when you and your friends just said "screw it" and instead of spending the day adulting, you just got together and hung out? That's the kind of day Jordan Okrend depicts in the video for the title song from his recently released album, Dance By The Riverside.
"Dance By The Riverside" is a joyous ride of funky soul meant to lift your spirit and get your feet moving. Catchy hooks, with a fluid blend of guitar, keys and sax. Add to that a heavy dose of bass to keep things moving in the right direction.
"Wanna go someplace and have open space. 
Leave the noise behind, make my soul feel alive."
The video for "Dance By The Riverside" begins with Okrend, guitar in hand, walking down to the river. The party is already underway. Assembled are a variety of people, dogs and a woman in a chicken suit. It sure as hell looks like fun.
The album was released in June and features eight tracks of nicely crafted tunes. Some of it more in the pop style, but there's still a lot of old-time R&B to savor. Dance By The Riverside is the fourth recording released by Okrend. He previously released EPs in 2010, 2012, and his 2015 EP, World Keeps Turning.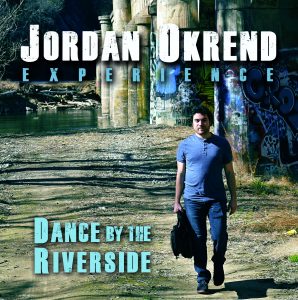 So if you are in need of an escape from the daily grind, take a listen to "Dance By The Riverside" for a little pick-me-up.
Chicken suit not required.
Post by Kath Galasso @KatsTheory
Jordan Okrend website
Dance By The Riverside on Soundcloud