Stars Shining the Spotlight on Hurricane Harvey
Hurrican Harvey Ravages Houston
Celebrities from the music and movie industry, along with big names in professional sports are stepping up to support Houston. Hurricane Harvey is still ravaging the state as it travels across Texas, leaving thousands in search of shelter, supplies, and safety. With many people still trapped in their homes, private citizens are towing in their boats to help rescue entire communities and law enforcement agencies are working diligently to complete search and rescue.
CNN reports that Harris County has registered 48 inches of water, making it the "most rain ever recorded in the contiguous US from a landfalling tropical cyclone." At least 15 deaths have been reported so far and the rain has not stopped falling.
Showing Support for #Texas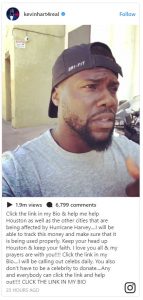 On Instagram, Kevin Hart promised $25,000 for Houston on Monday and called out some of his friends to join him. Nicki Minaj and DJ Khaled each replied with their own $25,000 pledges.
Beyoncé gave a statement to the Houston Chronicle, saying she would be working with her charity BeyGOOD to figure out how to distribute money and support.
Kim Kardashian tweeted Tuesday morning that she, her mother and her sisters would be giving $500,000 in total to the Red Cross and Salvation Army.
Country music star, Chris Young donated $100,00 and started a GoFundMe Campaign benefitting Hurricane Harvey victims.
Houston Texans defensive end J.J. Watt also started a fundraiser on YouCaring, which is almost at its $2 million goal.
Sandra Bullock donated $1 million for Harvey relief saying: "There are no politics in eight feet of water…"
Home Town Hero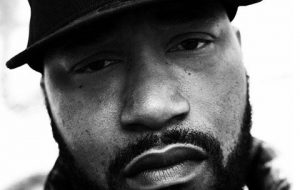 Bun B is a Port  Arthur native and this storm is hitting home for him. During an interview with Mass Appeal, he stated that money isn't what they need at this moment. After being asked about Kevin Hart's donation efforts, Bun explained that he's feeling the urgency for those still trapped in the city saying, "It's going to take massive amounts of money to fix the situation, but today, right now at 11:02 a.m. CST, we need shallow water boats and kayaks and anything that floats, to go and get people out of their homes. We need huge dump trucks, we need to get people out of those neighborhoods into shelters. Get people safe. Because we still have three more days, at least, to hunker down. At least three or four more days."
We send our best wishes and heartfelt sympathy to the people of Texas. We have donated to the Houston Salvation Army and hope you feel compelled to do the same. The link is HERE.