George Michael, RIP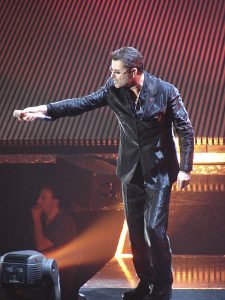 Photo By Yves Lorson from Kapellen, Belgium – George Michael, CC BY 2.0, Link
2016 Takes Another Music Great. George Michael, RIP
Wild speculation is out today regarding the cause of death of beloved George Michael, as the odds of a 53 year old popular music icon passing away on Christmas day are pretty high. George Michael hit the states with a "Wham" in 1984. "Wham!" was an 80's pop duo consisting of George Michael and Andrew Rideley. In the 1980's "Wham!" competed for the affections of teenage girls against rival bands like Duran Duran and Culture Club.
Their break out hit, "Wake Me Up Before You Go Go" became their first UK #1 single and rose to that position in the US as well. The band started a fashion trend by sporting Katharine Hamnett T-shirts with the slogans "CHOOSE LIFE" and "GO GO" in the music video. Hamnett is an English fashion designer known for her political t-shirts and her ethical business philosophies.
In March 1985, Wham! took a break from recording to embark on a lengthy world tour, including a ground-breaking 10-day visit to China, the first by a Western pop group. Wham! subsequently decided to use a video edited together from footage of their tour of China in time for "Freedom's" U.S. single release.
The double A-side single "Last Christmas/Everything She Wants" became the highest-selling single ever to peak at No. 2 in the UK charts. Wham! donated all their royalties from the single to the Ethiopian famine appeal to coincide with the fund-raising intentions of Band Aid's "Do They Know It's Christmas?", the song which kept them out of the top spot. Nevertheless, Band Aid's success meant that Michael had achieved #1 status in the UK within three separate entities in 1984—as a solo artist, as one half of a duo, and as part of a charity ensemble.
In the spring of 1986 George Michael and Andrew Rideley had an amicable parting of ways. Michaels was interested in targeting a more sophisticated market than "Wham!" catered to and went on to top the charts with his debut solo album, Faith featuring long-lasting pop hits like, "I Want Your Sex", "Careless Whisper", "Father Figure", "Kissing A Fool", and "Freedom!90". Released in 1987 when Michaels was only 24, Faith cemented his career as a solo artist and pop music star. He wrote and produced every track on Faith, except for one, which he co-wrote.
When "I Want Your Sex" reached the US charts, American Top 40 host Casey Kasem refused to say the song's title, referring to it only as "the new single by George Michael." The title track, "Faith" provided some definitive images of the evolving 1980s video music industry with George Michael in shades, leather jacket, cowboy boots, and Levi's, playing a guitar near a classic jukebox.
Faith sold more than 20 million copies worldwide and Billboard magazine ranked George Michael the 40th-most successful artist to ever live.
The documentary A Different Story, released in 2005, covered his career and personal life.
Earlier in December, it was announced that Michael was working on a new album with producer Naughty Boy, and in George Michael's last Instagram photo, the British singer posted an image teasing his upcoming documentary, Freedom, set to be released in March 2017.
On December 25th, 2016, George Michael died in his sleep at his Oxfordshire home. He was 53. No cause of death has been determined at the time of this writing. Sky News reported that his manager has stated suspected heart failure.
We wish his friends, fans, and family comfort during this difficult time. 2016 has been a rough year for music lovers.