Gary U.S. Bonds Birthday Bash at B.B. Kings NYC
The night was billed as Gary U.S. Bonds with Special Guests, and it was a celebration of Gary's 76th birthday. This was his seventh B.B. King's birthday party and it didn't matter who the guests would be, this crowd was there to have fun.
Fun was to be an understatement.
As the band played him onstage to the opening notes of Springsteen's "Action In The Streets," Gary, obviously enjoying the moment, had a twinkle in his eyes and a huge smile on his face. That smile did not leave his face all night. And why would it? Bonds still commands the stage, has a natural ease about him as a man who feels right at home in his own skin, a sense of humor, and on this night, was surrounded by beautiful and talented women. On this night, with the exception of two local guitar rockers, Gary's special guests were all of the female type, and he clearly appreciated every minute of it.
He spent a few minutes talking about some of his dear friends who couldn't make it to the show:  Ben. E. King, who passed away in April; Springsteen, who apparently was in Europe watching his daughter participate in her equestrian events, and Southside Johnny, for whom he thanked God that he wasn't there, before getting the crowd going with his rendition of "New Orleans." It was then time to bring up the first musical guest, singer-songwriter Christine Martucci, who offered a couple of her own soulful tunes before joining up with Gary on another Springsteen treasure "Rendezvous"
The start of many beautiful sax solos from Joey Stann came on the next two songs, Ben E. King's "There Goes My Baby," followed by King's signature song "Stand By Me." With the audience softly singing along, it was a touching tribute to his late friend.
Next guest of the night was a powerful vocalist named Jillian Rhys McCoy singing a sultry version of Smokey's "You Really Got A Hold On Me," then belting out an unexpected but wonderful cover of The Beatles "Oh Darling." Gary then came back out and still enjoying the moment, brought onstage his first glass of wine of the evening for a duet with Jillian of "Club Soul City."
Back to rocking with "Old Dog," he then sang Steve Van Zandt's wonderful "Daddy's Come Home." Lisa Bouchelle was the next featured guest and she rocked out to a couple of her own songs including a duet with guitarist Mark Leimbach on "Just The Tequila Talking," before Gary joined her on the can't-be-beat "Soul Deep."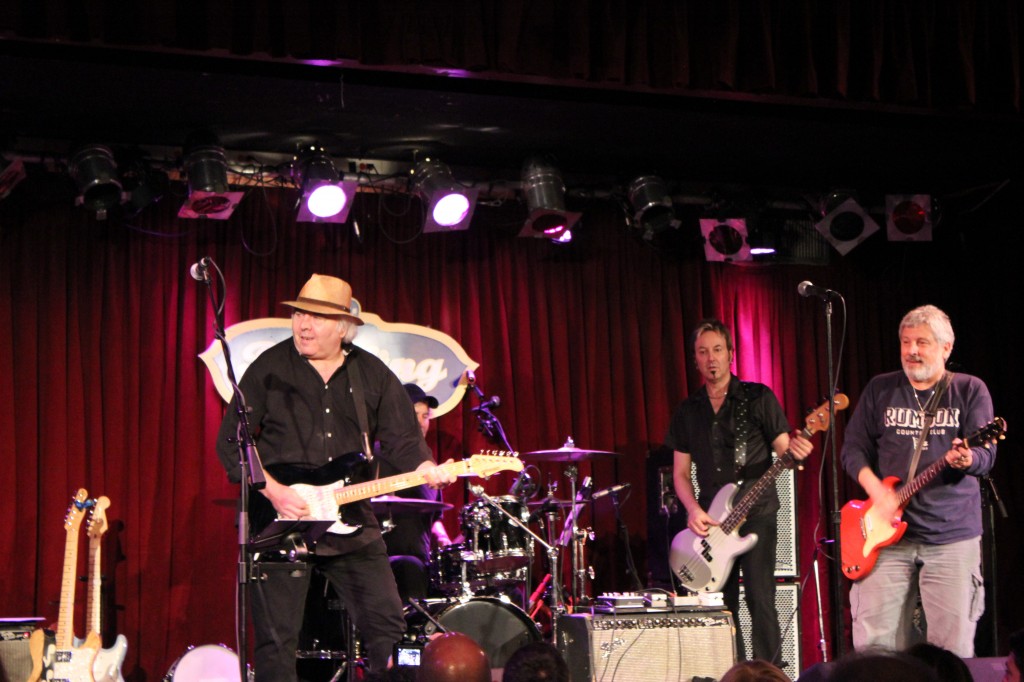 If you ever want to up the tempo in a room, all you need to do is what Bonds did next; bring out two legendary rockers by the names of Gene Cornish (The Rascals) and Bobby Bandiera (Southside & the Jukes, Cats on a Smooth Surface).  Breaking into "Walk Don't Run," a 60s instrumental by The Ventures, it showcased just how talented these two guitarists truly are.  Bobby then did the vocals on Del Shannon's "Runaway," before fever pitch was reached with no-holds-barred version of The Rascals "Good Lovin." Bonds joined them and "Let The Good Times Roll" before introducing violinist Lorenza Ponce, who worked tunes by Jeff Beck and J. Geils into a creative and wildly interesting segment of the show.
Smiles appeared everywhere in the room as Ponce then played the familiar fiddle introduction into the unofficial Cajun national anthem, and crowd favorite, "Jole Blon."  Too much damn fun.
The final guest of the night was Layonne Holmes who kept the energy up with a little Etta James number called "In The Basement," and the James Brown classic "This Is A Man's World." Bold and beautiful.
"Not Me," a song that goes way back into Gary's catalog was followed by the obligatory birthday cake and singing of "Happy Birthday." The evening started winding down in the amount of time left, but not in enjoyment as the band began one of Bond's signature songs, "This Little Girl Is Mine."
After nearly three hours, it was time to wrap it up, and what better way to send the crowd home than with "Quarter To Three."
Girls were really the theme of the evening as his musical guests helped out on many background vocals as well as taking the spotlight. The night was also a family event for Bonds, as the backup singers on the rest of the songs included his daughters and his wife of over 52 years.  His band, The Roadhouse Rockers (Mark Leimbach, guitar; Hal Selzer, bass; Lance Stark, drums; David Biglin, keyboards; Joey Stann, sax) provided perfect accompaniment, and what more can you say about Gary? The man is smooth, professional, funny, and a whole lot of fun.
Happy Birthday Gary, appreciate you sharing it with us.
Review by Kath Galasso @KatsTheory