Foo Fighters Indianapolis 8/27/15, reviewed
Foo Fighters:

Last night's sold out Foo Fighters concert at Indianapolis' Klipsch Music Center was a standout performance from one of the most fun bands in the business.
Front man David Grohl, one of the most enduring faces in rock music is still recovering from a broken leg which occurred June 12 in Sweden.
Performing from a special seat reminiscent of the Iron Throne from HBO's wildly successful Game of Thrones, Grohl ruled the audience with more of the personality of fun loving Tyrion than any power hungry king.
Despite being seated, Grohl still thrashed his head back and forth throughout the performance, often hurled himself backward in his "chair" and several times rose to his feet, even though from his expression, it was clearly painful.
Joined for one song by Blues Traveler's John Popper, who was also in town, this show was one that the 24,000 plus attendees will likely never forget.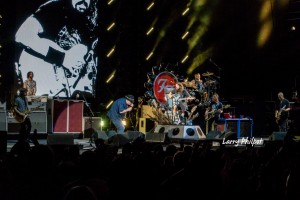 Grohl burned more calories than an aerobics instructor in the two and a half hour blistering set, all the while interacting with the audience with witty banter and an attitude unmatched by anyone this writer has ever seen. It's easy to see that Grohl genuinely loves the fans, loves his job.
Foo Fighters, what if I say you're not like the others? Not at all.