Elvis Presley RIP Aug 16th, 1977
August 16th marks 43 years since the passing of Elvis Aaron Presley.
Like most people alive in 1977, I remember the death of Elvis Presley, even though I was nothing but a snot-nosed kid. I was staying with my grandparents that summer. It was hot in Texas, and I was stuck inside with old people and four channels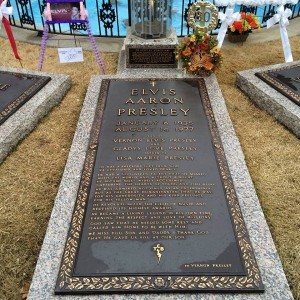 to watch (including PBS), so I knew of his death probably before my parents made it home from work. When I close my eyes today, I can almost see the shock and grief register on the faces of the grown-ups when they heard Elvis Presley had left the building, never to return. Young or old, fans or haters, they all knew Elvis. All the grown-ups in my world acknowledged his greatness and grieved his passing in some fashion.
If you don't already know, Elvis Aaron Presley is IMPORTANT to music and pop culture – then and still today. He almost single-handedly changed the musical paradigm of his era by recording songs that were not wrapped in Sinatra's blue eyes and tied with pink ribbons. Elvis was smoldering, dangerous, and something "nice girls" didn't listen to when their parents were home in the uptight 50's. Elvis brought the boring black and white 50's into the space age with the resounding thrust of his "swivel hips" and freaked people out on a global scale.
I visited Graceland, and if you are a music lover, I highly suggest making the pilgrimage. For me, it was a pilgrimage and a communion with music history. There is a larger than life presence in what we would consider a "McMansion" today and I'm not sure if it's spiritual, material, or just plain spooky, but it's no chore to feel "The King" when you are in his castle. It's easy to imagine, standing in the "Jungle Room" of Graceland, a bouffant-haired, cat-eyed Pricilla pouring over different animal prints and shag carpeting with butt-kissing decorators to please the eccentric tastes of Elvis. The side room that Elvis's mother, Gladys called her own, still has her Eisenhower era clothes hanging in the closet. Her purses are neatly lined up almost as if they are waiting for her to grab one that matches her shoes. In the kitchen, the 1970's era push-button-electric-stove looks like it was used to cook real food once upon a time. Now that this house is no longer a home, there is a feeling of incompleteness that permeates the air. Graceland once provided a glorious, loud life for people who knew how to take big bites and now it's a museum piece, filled with whispered voices, and sincere reverence. The grounds outside are calming, and still, have the feeling of remoteness even though the city is a cab ride away. Elvis, his stillborn twin, his mother, and father are all buried there. It's clear after visiting Graceland, whatever demons may have possessed Elvis, he had a deep love and respect for his parents and cherished his daughter, Lisa Marie.
John Lennon said, ""Before Elvis there was nothing" and any artist would be hard pressed to disagree with that sentiment. Elvis believed in "Taking Care of Business in a Flash" because he was ahead of his time. He was the future, and now he's immortal.
The King is Dead. Long Live The King. #RIP