Southern Rock Rises Again. 'Cocked and Loaded' from the Jay Clark Band Revisits the Classic Sound
Cocked & Loaded, where nostalgic doesn't mean old
Southern Rock.
Just the mention of the genre conjures up images of hard-ass rockers with heavy guitar licks, unforgettable hooks and lots of cowbell. Cocked & Loaded, the soon-to-be-released album from the Jay Clark Band has it all.
Yes, even the cowbell.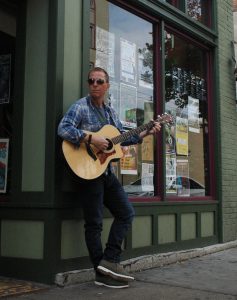 Jay Clark left Cincinnati to enlist some of Nashville's seasoned session players and record Cocked & Loaded at the Beaird Music Studio. The result is a high energy, ten song collection that is definitely Southern, with some country mixed in with the rock.
Cocked & Loaded opens with "Get Wild," a punchy and perfect introduction to the Jay Clark Band sound. Great guitar riffs and spirited drumming highlight the tune that talks about the anticipation and mood of going to see a show.
"Hell Or High Water" puts the spotlight on Clark's gravelly vocals. Those Southern Rock guitar licks are not lost in the background, but layer behind the vocals like the rising smoke of a fire.
"Won't Be Pushed Around" is a song looking for a bar fight. Testosterone driven lyrics and guitar are only momentarily softened by a little piano in the background. Still, it's fast and fun and really, isn't that enough?
"The River" is the first single off Cocked & Loaded. It features Clark trading verses with Adam Cunningham, and it's a taste of reimagined Lynyrd Skynyrd. It floats easily along, keeping your attention as well as the south's influence.
If you've been waiting for the cowbell, and really who wasn't, the title song brings a taste of old time Southern rock and a touch of Van Halen's "I Can't Drive 55" to a fresh blend that is…Cocked and Loaded.
"Whatcha Doin' To Me" is a classic song of the Southern rock genre. It won't knock your socks off, but it will sure keep your foot tappin'.
Cocked & Loaded ends off the way it began, fast and punchy. "Shakedown" has energy, a sad love story, and lots of guitar work.
Cocked & Loaded is entertaining with some very fine guitar work. Lyrically, it's not in the class of early Southern rockers like Skynyrd, the Outlaws, or the Allmans. Does it need to be? No. It's true to the genre, it's enjoyable, the production is well done, and instrumentally, there's some real creative stuff going on.
Jay Clark is currently rehearsing with his tour band, getting ready to hit the road in support of the album. The release date for Cocked & Loaded is April 30th. Might be worth your while to give the album a listen.
Review by Kath Galasso @KatsTheory
Jay Clark Band website
Track Listing:
Get Wild
Hell or High Water
Leave It All Behind
Won't Be Pushed Around
The River
Freight Train
Another Love Song
Cocked & Loaded
Whatcha Doin' To Me
Shakedown