Bon Jovi in Indianapolis, reviewed
(Indianapolis, March 22, 2017)  Live Nation continues with their take no prisoners onslaught of concerts that should forever shake the city of it's "Naptown" nickname. Here, over 26,000 were on the floor and filling three tiers of seats to see Bon Jovi, at his first tour since 2013. A couple of members of John Mellencamp's band were in the fenced in soundboard. Nine blocks down the street, Buddy Guy, Kenny Wayne Shepherd, Zack Wylde and a couple more of the greatest blues guitarists in the country were playing a Jimi Hendrix tribute, and concert season hasn't yet started.
Shiny Penny opens the show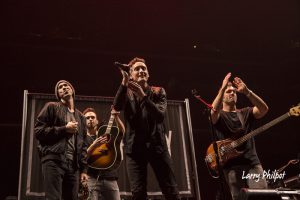 Promoter Live Nation and Bon Jovi's management chose local band Shiny Penny from thousands who applied for the contest to open his shows on this tour, by entering on Bon Jovi's website (bonjovi.com). The band has been running similar contests for other communities on its "This House Is Not For Sale Tour."
Prior to the show, lead singer Dean Schimmelpfennig told Fox 59, "We don't know what it's going to be like yet. At this point we're just imagining what it'll be like," The Kokomo, Indiana based band is quite literally experiencing the "big stage" for the first time, but you could tell that while it may have been the biggest night so far of their young lives, they handled it quite well.
For the band, the Bon Jovi concert is the culmination of eight years of hard work. "We've been in other contests before and haven't had a lot of luck. Going into it we were like it's just another contest," guitarist Brad DiCarlo said. To see some photos from that show, go HERE:
http://www.shinypennyofficial.com/
Bon Jovi takes the stage
While Jon Bon Jovi is now, at almost 55, still a great looking frontman, he runs the ramp to greet fans behind the stage. He's still an engaging leader, bouncing on the balls of his feet, doing his
open-palm arm flutters and grinning and flashing thumbs-up signs to well-wishers in the front rows.
The New Jersey rockers, who brought their "This House is Not for Sale" tour to Bankers Life Fieldhouse to a sellout crowd, played some hits, but interspersed between classic songs and new material was a surprising amount of introspection from lead singer Jon Bon Jovi.
The 2½-hour concert, played to a jam-packed house, opened with the title cut from "This House is Not for Sale," with the band performing behind a sheer curtain adorned with a photo of the house from the album cover.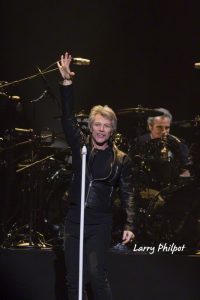 This marks Bon Jovi's first time on the road since 2013, when longtime guitarist Richie Sambora left the band in mid-tour. Losing the decades-long musical partnership was apparently devastating for the singer.
Replacing Sambora on lead guitar is Phil X, who's wildly talented and has great stage presence. Despite having some big shoes to fill. X adds new colors to familiar riffs, and he and Jon Bon Jovi play well off of each other. There certainly remains great chemistry between Bon Jovi and his other longtime bandmates, keyboardist David Bryan and drummer Tico Torres.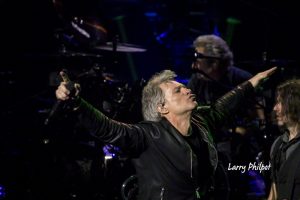 There were about six new songs, but the hits still made an appearance, and an even greater impression. During "Lay Your Hands on Me," Jon Bon Jovi swiveled his hips, played air-keyboards and strutted around the stage like a youthful Mick Jagger. In fact, for "We got it going on", he did the entire song, singing and moving like Jagger.
Bon Jovi does it all: He sings, he dances, he jokes, grins and he tells stories.
About halfway through the show, things turned serious as Jon Bon Jovi clasped the microphone with both hands and talked to the sold-out crowd for a bit – about how "the last few years were tough" and the band was at a crossroads. He explained the meaning behind "This House is Not for Sale," shared his struggles with songwriting and Bon Jovi's 2015 record label dispute and reiterated the importance of the arts.
It's great when an artist talks about a song — how it came about, or what even influenced the tune. On Wednesday, Bon Jovi talked a lot about a few of his songs. He spoke of "It's my Life." The line "For Tommy and Gina, who never backed down," is a reference to their 1986 hit "Livin' On A Prayer," which featured Tommy and Gina as young people trying to get by in tough times. He said that the great part of a song was that people listen and they can identify with something and make the song their own. Any one of us could have been Tommy, or Gina.
He talked about having to fight with Richie (Sambora) over the line "Like Frankie Said, I did it my way" is a reference to Frank Sinatra, who sang "My Way." Sinatra was from New Jersey, just like Bon Jovi. Richie had trouble making the connection, but Bon Jovi said once he explained it, "that was an easy fight."
In a heartfelt moment talking about the struggles and stress, he told the crowd that there had been reports of the problems taking their toll, and they had, but he was doing alright now.
It seemed the show started out slow, but gained momentum about seven songs in. Jon connected firmly with the audience during his halftime talk and it was a high energy journey after that.
The three-song encore included "Wanted: Dead or Alive" and concluded with a version of "Livin' on a Prayer" that began with Jon Bon Jovi on an acoustic guitar and finished with an arena of voices singing the chorus.