Bad Reed, Self-Titled EP Reviewed
When a band puts out their first studio EP and there are only three songs on it, you hope that those three songs will get you excited, show what the band is all about, and leave you wanting more. For the self-titled release from Ontario based band Bad Reed, the response to those options is: yes, no, maybe.
Historically, a band's first release will contain some very strong material because they've had the time to focus on writing their songs before they get into the actual music business. Creativity is usually at a high point as the members pull all their influences while they form the seminal sound of the band. According to Bad Reed, the three songs on the EP were written and re-written numerous times, and while they are all fine on their own merit, it doesn't quite feel like the band has reached their core, the place from where the path of the band can trace its roots.
"Punch It" slowly builds its sound until a little reverb kicks it up into something much heavier and trippier than what the intro hinted. Sydney Sollazzo brings on the vocals and where she stretches, it takes you smoothly along. It's only when she reins her voice in does her technique suffer. Strong bass work by Austin Sharpe greatly complements Sollazzo's keyboards which are sometimes haunting and other times, leftovers from an earlier era of metal keyboard playing.
"Slackjaw Romance" begins with a lushly produced sound featuring Sollazzo's vocals against the guitar of Graham Walker. It's as close to a ballad as this EP will produce and while it's easy to listen to, it seems a little too saccharine. Again, the vocals soar where they need to, but seem strained where they don't. A little Alanis Morissette without the anger, a little Debbie Harry without the attitude is the feeling that comes through.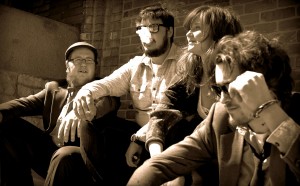 "Cassava" is by far the most interesting song on the album. It's a journey from start to finish, moving from familiar rock chords with a killer bass and intense cybals from Costa Chatzis to a jazz segue and back down to a little acoustic guitar. Just when you think you know where it's going, gears shift again bringing back the harder rock sound.
So answering the initial questions, does the band get you excited? Maybe, there is musicianship for sure and a hint at upper-tier artistry. Do they show what they are all about? No, and while that can be a good thing, on such a short EP  it's hard to figure out their sound. Do they leave you wanting more? Yes, mainly because you can't be sure what their sound is, but they have hooked you enough to be curious.
Review by Kath Galasso @katstheory
Track Listing:
Punch It
Slackjaw Romance
Cassava