Auld Lang Syne Farewell 2016
2016 "Auld Lang Syne"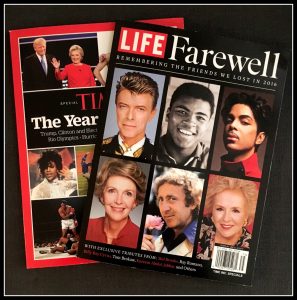 The list of people we lost in 2016 is long. This year robbed us of more famous faces than any other in recent memory. The Grim Reaper has been counting coup with our most treasured artists, and we are collectively heartbroken. January began with the death of David Bowie and ended with the deaths of George Michael, Carrie Fisher and her famous mother, Debbie Reynolds in the last days of the year.
It's been difficult to see the death notices of our favorite actors and musicians, who have brought us moments of joy and excitement scrolling across our social media feeds. The love and respect these artists have gained over their lives guarantees them a continued existence in our hearts and minds. Because they reached immortality before their deaths by touching so many of us, shedding the physical body will not stop their sphere of influence, or tarnish the gift of their work.
When Death Doesn't Mean Goodbye:
Just like Beethoven and Chopin still have an audience today, Bowie, Prince, and Haggard will still be playing to an admiring audience in the year 2986. George Michael will forever be a patron saint of Christmas, caroling to our great-great-great grandchildren, long after we are gone, and Carrie Fisher will always be a Princess in a galaxy far, far away. Their creative genius will live on as long as man's soul seeks expression.
2016 has been a year of loss, and it feels so final to lose the many artists who joined the great, big gig in the sky, but life runs in cycles, and every ending is followed by a new beginning. Here's to 2017, and all the up and coming new artists, who are waiting in the wings to delight us, as we give a bow to those who came before and blessed us with their genius.
We wish all our readers a happy and safe New Year in 2017! Auld Lang Syne. xoxo