Afterlife Revival is 'Rich In Love,' Music and Art
The Afterlife Revival lesson for today is: When the crow speaks, listen.
Evan B. Harris had one hell of journey on the road to growing up. Abandoned by his father at an early age, Evan and his Native American mother lived life on the road and even on the run. Living in empty Sierra Nevada gold mining towns and Indian Reservations and even running with biker gangs. Evan eventually ended up in Portland, OR, where life didn't get any easier.
Harris always using art as an outlet for expression and coping. Later, as his health declined, his art turned more introspective and the characters with transparent skin reflected his condition. At one point, shingles caused temporary blindness in one eye.
Enter the crow.
In a dream, a crow told Evan to 'get your grandfather's guitar and sing your song.' He did and the idea for Afterlife Revival was conceived.
"Rich In Love"
The first single from Afterlife Revival, "Rich In Love" offers a simplicity of concept combined with a beautiful blend of voice and instruments. As Harris explains, "What does it mean to be rich in love? This is a question I ask myself every day as I look in the mirror, when I look at my family, when I look at my friends, when I examine the world around me. I know that it has nothing to do with how much money I have in the bank or how good my credit score is. It basically comes down to my own attitude towards life. I listen to that voice of gratitude that tells me to take a breath, breathe it in slow… feel how good it is to be alive to be present to be here to be in the now."
If you listen closely you can hear a little early Bob Dylan with a bit of Leon Russel thrown in. Harris has an interesting vocal style with an elegant flow musically.
Afterlife Revival plans on releasing a new single over each of the next six months. Harris' digital artwork will accompany and physical art is available, as is the music on a subscription basis. More than just a band, Afterlife Revival is also a social concept where they will be playing benefits as well as donating 11% of all music profits to local Portland non-profit organizations. Harris states "My greatest hope is that by casting a pebble of inspiration into the infinite ocean of awareness, my ripples resonate and create a beautiful pattern for the world."
Starting out with "Rich In Love."
Listen to "Rich In Love" on Soundcloud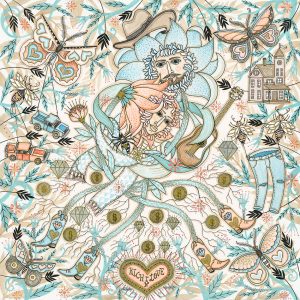 Post by Kath Galasso @KatsTheory
Afterlife Revival website
Afterlife Revival Instagram