ACL Festival Stand Outs
How do you keep a bunch of musicians, a rowdy movie star and 80 thousand people happy in the heat of Texas? – You work really hard.
C3 Presents is part of the Live Nation concert tour and brand. They are based out of Austin, Texas and produce The Austin City Limits Music Festival. Like everything in Texas, the ACL Fest is BIG, and it takes an army of employees and volunteers to manage the logistics of something this size. Zilker Park is filled with 80,000+ people for two weekends, and the mammoth scale of this festival requires precise execution and teamwork. This year's go-round is the fifteenth installment for the franchise.

One stand-out C3 employee is John Becker. We watched him at ACL last year, running the Home Away Stage like the captain of a ship. John can pick drowning concert goers from a crowd and pull them to safety like a lifeguard.  Most people don't consider how unsafe and dangerous a huge festival can become, but that's all John Becker considers. Hordes of people stand in the hot Texas sun waiting hours to see their favorite artist while John stares out into the sea of faces, spotting trouble and running interference before it gets out of control. The Home Away Stage belongs to John Becker, and everyone knows it. The artists gracing the stage know it, the crowd knows it, and the numerous volunteers and staff working the Home Away Stage know it.  John is quick on his feet, possess a keen eye, and obviously manages people well under extreme
circumstances. He joked that most people think he's an "asshole" but that's also part of his job description – someone's gotta be "The Authority Figure" and take on the responsibility of crowd management or events like this end up with people hurt or killed.
If C3 Presents had a suggestion box, we'd make just a few –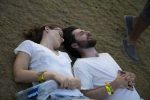 like — banning the folding chairs and investing in some designated pedestrian walking paths. With no clear walking paths at ACL, you find people sitting, sunning and sleeping in the most inconvenient places.  We're surprised the first aid station is not overflowing with broken fingers and bruised heads after being accidently stepped on and smashed. The blankets also cause a walking hazard, especially in the dark, and while the need for them is obvious, the cries of, "Hey! You're stepping on my blanket!" are annoying. You don't want your blanket stepped on, dirty, or covered in beer? – Our advice; don't lay it out in a crowd of 80,000.
We are looking forward to attending a third year at ACL and will look for John Becker's red shirt manning the Home Away Stage like a boss while we catch Radiohead, Chris Stapleton, Andrew Bird, Mumford & Sons, and the Chainsmokers (among others) throughout the park.  http://www.aclfestival.com/tickets/ is showing no available tickets, however, StubHub has quite a few available for both weekends.  Festivalgoers should come prepared by staying well-hydrated, dressing appropriately for the hot weather and wearing sunblock.