2013 CMA MUSIC FESTIVAL – NEW ATTENDANCE RECORD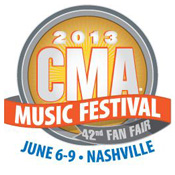 by CMA | Jun 10, 2013
Surprise Guest Performers Included Jason Aldean, Sheryl Crow, Charlie Daniels, Kid Rock, Lenny Kravitz, Tim McGraw, Jason Mraz, Kenny Rogers, Trisha Yearwood, and More!
NASHVILLE – CMA Music Festival set a new attendance record in 2013 with daily attendance topping 80,000 fans, a near 13 percent increase over the 71,000 in attendance in 2012 and a sellout of LP Field tickets six weeks before the event.
The increase was attributed to expanding the event into the new Music City Center, which was dubbed the AT&T U-verse Fan Fair X. The new venue nearly tripled the size of the former space in the Nashville Convention Center creating room for new exhibits, additional stages, and attractions for families in the Keep the Kids Playing Pavilion.
"This event has a global reputation as the destination for any Country Music fan," said Steve Moore, CMA Chief Executive Officer. "The support we receive from our industry and the dedication of our fans is unduplicated. Each year we strive to improve and enhance the event for our attendees and the artists – and this is undeniably our best CMA Music Festival ever!"
Attendance figures for 2013 include four-day ticket packages and promotional tickets, as well as attendance in Fan Fair X, and free areas downtown. In all, more than 450 artists and celebrities participated in more than 200 hours of concerts on a record 11 different stages.
Week-long mild temperatures in Nashville resulted in increased attendance in the numerous free areas including The Buckle, Fan Alley, public events, and concert venues. In fact, there was record attendance on opening day at Chevrolet Riverfront Stage with more than 44,000 fans passing through the gates for the free concerts on the sloping bank of the Cumberland River. Crowds for the new Transitions Performance Park were strong and attendance at the Bud Light Stage on the Bridgestone Arena Plaza increased over 2012. The BMI Tailgate Party stage at LP Field, which debuted in 2012, was bustling each evening as crowds entered the stadium for the Nightly Concerts.
Corporate brand partnerships are a key element to the marketing, fan experience, and financial support of the Festival. Nearly 40 different brands participated in the CMA Music Festival generating a combined activation and consumer engagements of more than 1.8 million. These various engagement elements included product sampling, dedicated registrations, and brand impressions.
"In 2013, we built on the strength of our established Festival partnership development program by working with partners who were excited about engaging our attendees in new and entertaining ways," said Sheri Warnke, CMA Senior Vice President of Marketing and Communications. "The growing popularity of our Festival is due in no small part to the commitment of our corporate partners in creating and delivering a great fan experience."
"We were thrilled with our experience at this year's CMA Fest," said Michael Weidman, National Promotions Manager for Chevrolet. "We had a record number of people engage with our products. We are already starting to think about how we can up our game for next year."
"The 2013 CMA Music Fest was the best ever, providing the ideal platform for HGTV to connect with passionate Country Music fans," said Denise Conroy, Senior Vice President of Marketing and Creative, HGTV & DIY Network. "From the top-notch concert lineups to the overall rich experiential environment, CMA Music Fest was the perfect setting for the HGTV Lodge."
"As first-year partners, the 2013 CMA Music Fest has exceeded our expectations," said Tim Skiba, Director of Media for Gander Mtn. "The Festival has proven to be an excellent avenue for us to reach and engage with avid outdoors enthusiasts and Country Music fans. We can't wait for 2014!"
CMA Music Festival supports music education in Music City. The artists and celebrities participating in CMA Music Festival donate their time. They are not compensated for the hours they spend signing autographs and performing. In appreciation of their exhaustive efforts, The CMA Foundation donates proceeds from the event to music education on the artists' behalf through CMA's Keep the Music Playing program. Since 2006, CMA has donated more than $7.6 million to the cause.
CMA's fans are contributing to this worthy and important initiative, too. For the first time during the Festival, fans were able to bid on signed items and one-of-a-kind experiences during the CMA Silent Auction benefiting Keep the Music Playing, which was held in Fan Fair X.
The auction raised more than $80,000 and included items such as a Jack Daniel's Commemorative Whiskey Barrel autographed by the Master Distiller and branded with the CMA Music Festival logo; a Chevrolet Camaro Convertible hood, signed by artists on the 2011 CMA Awards Red Carpet; and a 2012 CMA Awards commemorative guitar, autographed by hosts Carrie Underwood and Brad Paisley.
CMA Music Festival, which started as Fan Fair® in 1972, is about the fans and their relationship with the artists and the music.
The theme is universal and in 2013, Festival attendees came from all 50 states and two dozen countries, including Australia, Austria, Canada, Chile, China, Cuba, Czech Republic, Denmark, Dominican Republic, France, Germany, Holland, Honduras, Ireland, Italy, Japan, Korea, Mexico, New Zealand, South Africa, Spain, Sweden, Switzerland, United Arab Emirates, and the U.K.