Concert Review: Eagles at Salmon Festival
Those who've seen the recent documentary History of the Eagles are now up to speed on the band's exploits spanning their initial 1971-1980 run, followed by the 1994 Hell Freezes Over reunion and subsequent activity to the present. You know that members have come and gone, with Glenn Frey and Don Henley the only two original members remaining in the full-time lineup. Original lead guitarist Bernie Leadon left the band in 1975 shortly after Don Felder joined. Joe Walsh was recruited in 1976 to pick up the slack from Leadon. Bassist Randy Meisner quit in 1977 and was replaced by current bassist Timothy B. Schimdt, who still resides in the band along with Walsh. (I know. It's complicated drama for grown men.)
Felder was given his walking papers in 2001 for complaining about not getting even cut from a then still-effective '70s contract (he later sued and settled out of court for millions). Notable ace session guitarist Steuart Smith was hired to replicate Felder's enduring guitar parts in his very conspicuous absence. Therefore, the current lineup touring this summer is Frey, Henley, Schmidt, Walsh, and Smith, with Leadon back in the band as featured segment guest. A few background musicians (who are largely kept in the shadows) flesh out the lineup.
It was this contingent and its handlers that pulled into the small Canadian town of Grand Falls-Windsor, Newfoundland on Saturday night to play some of their mega-hits for 30,000 bodies and pick up their tidy 1.2 million-dollar pay cheque as the headlining band on the annual Salmon Festival. I heard an unsubstantiated report that the band had thought they were actually supposed to play Windsor, Ontario as the third of their three-date Canadian run (this gig was scheduled in between the Toronto and Ottawa shows). So following much confusion leading up to the show, their gear was routed to Newfoundland and the band ended up with a much longer travel itinerary than they'd bargained for. As I said, I cannot verify this story; but it sounds plausible as it's right between the other two Ontario dates, and "Windsor" is in the town's name. Still, if this was an oversight it's a bit of a alarming one when millions of dollars are involved. Gander airport, being less than an hour drive away from Grand Falls-Winsdor, allowed for the Eagles' private jet to land fairly close to the event and then get them out of there and back to civilization the minute the show was done.
Just as the sky started to show a trace of evening light and the 35-degree temperature began to recede into the low 20s, an armada of nine vehicles pulled into the back gates carrying the Eagles and their entourage. All members arrived in separate cars and immediately retreated to their separate trailers, cordoned off in a security-protected tennis court where not even musicians from the other bands were allowed to go.
I've played at two Salmon festivals in the past with my group Brothers in Stereo and on bass with singer/songwriter Barry Canning. But on this day I was there in the dual role of reviewer and photographer. Earlier in the day I'd gotten some great shots of Canadian icons Blue Rodeo and Tragically Hip during their spirited afternoon/evening slots. The guys in Blue Rodeo are old friends, so I had a beer with them outside their trailer and caught up on some news before heading around the rest of the backstage area for a look. I happened upon my photographer friend Bud Gaulton getting set up to shoot the Eagles' meet-and-greet. Various event staffers in shirts and ties were organizing an excited cluster of bodies up against a tractor-trailer cab for a photo opportunity with the Eagles. I decided to hang out and watch all this unfold.
Sure enough, all five Eagles suddenly appeared a few minutes later to meet the contest winners. There they were, looking very casual and oddly diminutive as they shuffled over to the wide-eyed group of fans. What I thought would be a handshake and short chat among the fans actually turned out to be a "no-touch, 30-second, face-the-camera, smile, and walk away" scenario. The Eagles were literally there one minute – maybe two minutes tops – before they bailed unceremoniously back to their respective trailers. From where I was positioned (about ten feet from the group of fans), I did not witness one word or greeting exchanged between the guests and band; if there was, it got past me. No doubt feeling awkward, confused, and disappointed, the fans shrugged their shoulders and looked at one another uncomfortably as a security guard waved his hand impatiently, ordering them to leave the area.
I turned to talk to Bud, who was readying his camera to shoot the first few tunes of the upcoming Eagles set. I was excited because we were both about to get some great shots up close. Bud then broke the news to me that the Eagles had changed the photo rules at the last minute to "no pit, just soundboard." This in essence meant that all photographers, after being promised a 3-song front-stage shoot, were now being relegated to a soundboard halfway across the field.
At this point, having experienced the cold, lifeless meet-and-greet (more of a "snub-and-ignore," actually) and then being told that they were changing their press agreement last minute, I started to get a growing sense of disillusionment. In a matter of five minutes, the Eagles had spit in the face of both their fans and the media – the two very reasons for their gargantuan success.
As I joined the other photographers pushing our way through the packed crowd to get our measly 3-song, long-distance photo opportunity for our respective publications, I realized that I didn't even want to be there anymore. And this was before they even started their first song.
I found a spot in the cramped soundboard area, and a few minutes later the band came out on stage. No smiles, no energy, no aura – just flat expressions and mid-tempo drudgery. The keys were lowered to accommodate aging voices, and instruments were played with a style resembling rote memory as opposed to passion or fire. One of their first songs, "Witchy Woman," had little remaining fire of the original in its arrangement. It was, however, a pleasure to hear Bernie Leadon's signature early Eagles guitar sound in the mix. He played as well as he did in 1973. Too bad he disappeared after a few songs and didn't come back until deeper into the show. More typical Eagles weirdness. Can't they just keep him on for the complete show and leave the politics out of it? He's Bernie Leadon, country-rock pioneer who first gave the unknown Frey and Henley credibility in 1971 coming from the ground-breaking Burrito Brothers with Gram Parsons. It's exasperating to see these types of abbreviated guest spots by former full-time members of classic rock bands. The Stones are doing the same thing with Mick Taylor, and it's ridiculous. Bring them out and leave them out.
After the three-song limit was up, I tried unsuccessfully to make my way through the impenetrable crowd to the backstage area. A few of us photographers had to actually leave the concert field altogether and walk a series of streets to get back to our gear that was put away backstage. Bud and I decided to watch a bit more of the show from the side, just inside the backstage area. Besides Joe Walsh's tunes (which had a bit of oomph but nothing close to his '70s-'80s zenith), nothing stood out as particularly powerful. Frey did "Heartache Tonight" a step and a half down in the key of E from the original G he used to gloriously belt out years ago. It made for a dragged-out version. They even left out the syncopated rock-style guitar hits after the choruses and before the slide solo. Frey even had the gall to sing Meisner's "Take to the Limit" down in G, which pales in comparison to Meisner's wonderful original high tenor performance in B that made it the classic song we know and love. In G it's pointless. It has no hurt and no yearning sung that low.
Henley came out and did a mic-only crooner act for "The Long Run," and it took all the rock and roll out of that fine, snappy 1978 hit. In fact, this was the very problem here: the amazing catalogue of Eagles hits was being rendered in an abbreviated form that left the audience providing lukewarm rounds of applause and even general indifference at times. Henley added to the already tentative vibe by threatening to end the show if people did not stop using their smartphones for pics and clips. Don, it's 2013. Get with it or retire.
Timothy B. Schmidt was given the task of introducing the band halfway through the show. He tried unsuccessfully to communicate a sense of camaraderie among members. In a voice that betrayed a sense of overcompensation, he introduced Glenn Frey as "our fearless leader" (groan) from Detroit, Michigan. Frey added the lame joke, "ya, where 'mother' is the first part of a word." So the lack of personality exhibited backstage extends into humor as well. Not surprising.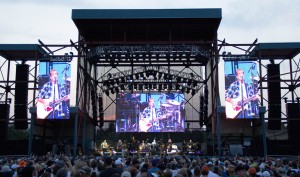 I asked myself as the show entered its last half hour, "What's more important to me….seeing the last bit of this concert or beating the traffic jam that's about to ensue?" I packed away my camera and unceremoniously walked out the back exit to my car as another slowed-down, drop-key '70s hit echoed through the trees and down the cliffs overlooking the Exploits River.
As I headed to my friend Kenneth's place to grab some sleep for the long drive home the next day, I turned on satellite radio to Classic Vinyl. Lo and behold,  "Lyin' Eyes" came on. I sang every word on the drive back, marveling at the greatness of this tune and its recording. Of course, this band on the radio was not the band I had just seen. The Eagles in the '70s were certainly egotistical megalomaniacs back then as well, but at least they seemed to care about the music and a sense of band dynamic. All they seem to care about now is the almighty dollar. From the blatant disregard for fans backstage to the militant "no-interviews/no photos" policy regarding the press, this band embodies the meaning of soulless corporate rock in the truest sense.
Not all classic rock acts are like this. Bruce Springsteen treats his fans like gold at meet-and-greets (and even in the street), as do Aerosmith, AC/DC, and lots of others. And many legendary acts will still grant interviews and allow pit shoots as a courtesy to the very medium that originally provided them a portal to riches beyond their wildest imaginations. Not the Eagles. They've already made their millions on the backs of fans and the media. They've got what they wanted, and people continue to come out and see them because the music holds some sense of romanticism for them in their personal lives. But make no mistake: these tours are nothing personal for the Eagles. They don't like you; they don't even like each other. It seems likely after hearing them live that they don't even like the material anymore. It's as if they're feeding an addiction to wealth while existing in an exclusive universe of bodyguards, fences, private jets, and mansions.
Only Joe Walsh seems to have any fire left in him. However, that could be due to his makeover; it gives him a youthful look that's bought him a decade in the aging department. He's never looked better. He moves around a bit and gets into it occasionally. However, the others have the same sour expression you see on the faces of ordinary people who hate their jobs. The only problem is that ordinary people are in the audience paying several hundred dollars hoping that the Eagles will make them forget about their crappy job for a couple of hours. Hopefully it worked on some people; others probably convinced themselves they had an amazing time because of the ticket cost. Blue Rodeo and Tragically Hip were actually the meat of the show; time and time again, they deliver. So for them alone, the ticket was worth it.
Admittedly, backstage and sidestage is probably not the best place for someone to construct a concert review. I was never meant to see that crestfallen embarrassment of a meet-and-greet. And maybe it biased me against the band for the remainder of the night (or sadly, my life). Either way, this is how I saw it. And for some reason I was not surprised. All you need to do is see the documentary to learn how this unit operates as a cold corporate entity in the new millennium. It's worth the watch. Don't bother shelling out your hard-earned money to help pay for Glenn Frey's next yacht. He will thank you with the most mediocre "Tequila Sunrise" you've ever tasted.
(Photos by Chris LeDrew)